Mel Gibson Circling World War II Film Starring Andrew Garfield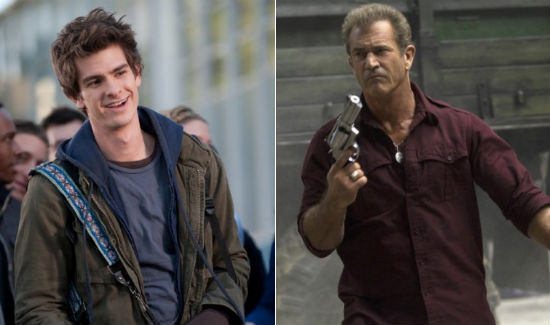 With Spider-Man stuck in a bit of a void, Andrew Garfield is filling his time wisely. He'll soon shoot Silence with Martin Scorsese, and now he might team up with another Oscar-winning director: Mel Gibson. Both Gibson and Garfield are circling a World War II project called Hacksaw Ridge. It's the true story of Desmond T Doss, a U.S. military doctor (played by Garfield, if it all works out) who refuses to kill patients badly injured in battle. As a result, Doss was the first "Conscientious Objector" to win the Congressional Medal of Honor. Gibson would direct the film. Read more about the potential Andrew Garfield Mel Gibson team up below.
Deadline broke the news of this possible team up. However, they stress that "this is not a done deal yet and Deadline understands that talks are moving forward delicately and slowly." The script was co-written by Robert Schenkkan and Randall Wallace, the latter of whom wrote Gibson's Oscar winner, Braveheart. This story has a similar theme to that film, about a hero who stands up to a bigger cause, so Gibson and Wallace re-teaming has a certain familiarity.
Gibson hasn't directed in years, his last film being the 2006 film Apocalypto. He was in The Expendables 3 earlier this year, and starred in the long delayed Get the Gringo before that but, for the most part, has kept a low profile recently. Of course, the reason for that is his hateful outbursts that made the gossip rounds a few years ago. Those did not help his public persona and all but relegated him to Hollywood jail. If there is a way back for Gibson – and there is, make no mistake – directing would be a smart play. Even if the deal for Hacksaw Ridge doesn't work out, you'd imagine a nice turn behind the camera would ingratiate him to the public one more before being able to headline another movie.
What do you think of Gibson directing and Garfield starring in Hacksaw Ridge?