'Pitch Perfect 2' Trailer: It's Anna Kendrick And The Barden Bellas Vs. The World [UPDATED]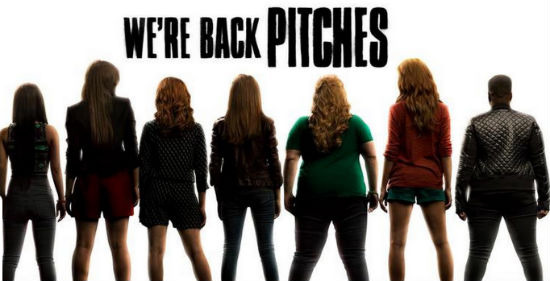 The Barden Bellas have already conquered the United States. In Pitch Perfect 2, they take on the world. Anna Kendrick and Rebel Wilson lead the cast of the a capella sequel, which hits theaters May 15. This time, the Bellas will attempt to win the world a capella championships, something no U.S. team has ever done. Along they way they'll bond, go camping, haze new recruits and explore what looks like an underground world of a capella that includes David Cross, NFL star Clay Matthews and more.
But Pitch Perfect 2 isn't all fun and games, as you'll see right at the beginning of this trailer. It looks like there's gonna be some emotion along side the jokes, part of the formula that made the 2012 original such a big cult hit. Below, watch the first Pitch Perfect 2 trailer.
UPDATE: We've added a bunch of photos from the set of the film. Check them out below.
Thanks to @PitchPerfect for the trailer.
Pitch Perfect 2 trailer
And here are the two teaser posters:
Pretty solid, right? I love that director Elizabeth Banks – who also reprises her role as a capellea announcer Gail – starts the trailer with Cups, the huge hit single that came out of the first movie, as a way to ease us back into the world of Barden University, Then things just go crazy, giving us tons of teases for what looks to be a huge, huge movie.
I mean, what is that house of a capella with those cameos? Why are graduated seniors, played by Adam Devine, Anna Camp and Brittany Snow still around? And why does the entire world hate the United States? Well, that last question is inferred as opposed to answered in the movie.
The trailer also only touches on the fact Hailee Steinfeld is a huge part of this sequel as one of the newest Bellas, and there's no mention that Katey Sagal is in the film too. But we get David Cross, so that's awesome.
I've been looking forward to Pitch Perfect 2 since I walked out of the last one and have since seen it several dozen times. Knowing very, very little about the sequel before seeing this trailer, I was both surprised and encouraged. Banks looks like she knows what the first film did well, and is keeping that tone while expanding everything else.
Pitch Perfect 2 opens May 15. What did you think of the first Pitch Perfect 2 trailer?UPDATE: Entertainment Weekly posted the first photos from the film. Check them out below.
 UPDATE 2: MORE PHOTOS!