Djimon Hounsou Joins 'Knights Of The Round Table: King Arthur' As Merlin-Type Figure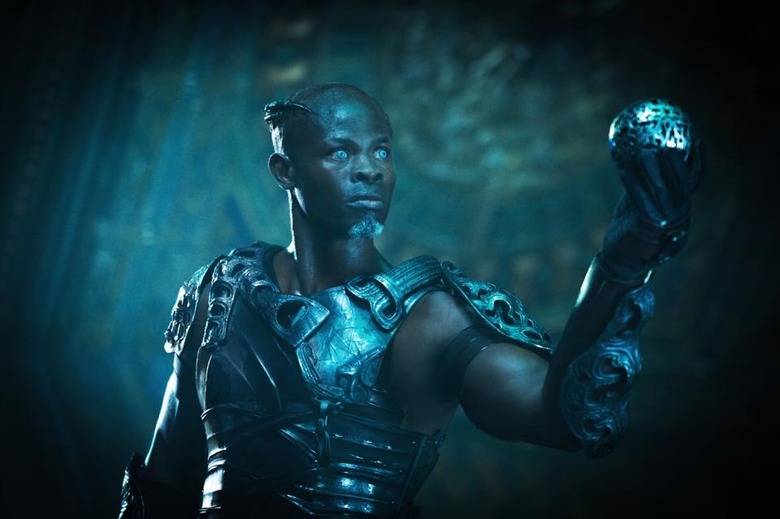 Way back in July, Idris Elba was one of the first actors to get cast in Guy Ritchie's long-gestating Knights of the Roundtable: King Arthur. Sadly, though, it seems he's now had to drop out due to scheduling conflicts.
But the good news is they've already found someone to replace him. Djimon Hounsou is reportedly in talks for the role, described as a "Merlin-like figure." Hit the jump for more on the Djimon Hounsou King Arthur casting.
Also in the cast are Charlie Hunnam, who is playing King Arthur, and Àstrid Bergès-Frisbey, who is playing Guinevere. Jude Law entered talks to play the villain last week. Joby Harold wrote the script based on Thomas Mallory's 15th century compilation Le Morte d'Arthur.
Knights of the Roundtable: King Arthur is intended as the first in a six-film series, though of course the next five are contingent on the first one doing well. So far, they seem to be off to a decent start with the casting. Hounsou isn't as big a name as Elba, but he should be more than capable of taking over the role of Arthur's mentor.
Hounsou is coming off of a supporting role in Guardians of the Galaxy, and has several films due out in the next couple years including Furious 7, David Yates' Tarzan, the horror film The Vatican Tapes, and the much-delayed Seventh Son.
Warner Bros. has Knights of the Roundtable: King Arthur scheduled to open July 22, 2016. Harold and Ritchie are producing along with Lionel Wigram, Akiva Goldsman, and Tory Tunnell.