Cool Stuff: Limited Edition Posters For 'The Bicycle Thief'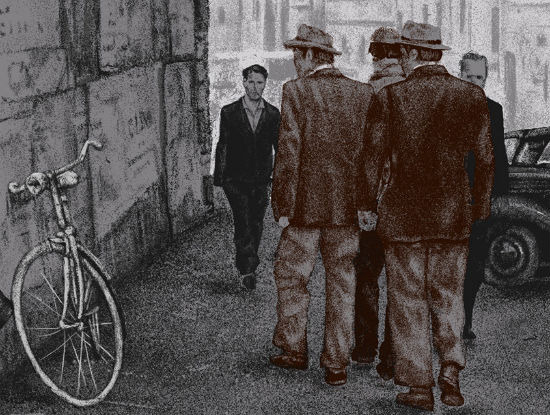 In the limited edition poster game, you pretty much know the drill. You're going to get really nice art for the same few dozen movies. It just so happens that movies like Back to the Future, Ghostbusters, Star Wars, Jaws, etc. are the ones that most influenced the current crop of professional artists. In fact, it's pretty rare that you get a piece of art for a movie that was made before 1975, let alone something foreign.
Enter FAMP Art, a new limited edition art company who is hoping to create works not from the regular hit films. They're focusing only on the best in independent and foreign cinema. They checked both boxes with their first poster for City of God and next week, they'll release a regular and variant for Vittorio De Sica's 1948 masterpiece, The Bicycle Thief. Below, we exclusively reveal both Bicycle Thief posters and tell you how you can get one.
Here is the regular and variant editions of The Bicycle Thief poster by artist Xul1349.
Each Bicycle Thief poster is a 24"x 18" screen print with metallic inks. The regular version will have a run of 80 and cost $40. The variant is a run of 45 and costs $55. It goes on sale November 24 at the FAMP Art website.
Here's some more info on the poster from the FAMP Art press reelease.
Films from the past always shape those in the future, especially if they can still resonate with people over half a century later.  It is for this reason why we at FAMP Art aim to preserve and spread the word about classic films from yesteryear, whether they're in English or not.
For our third print release, and to help celebrate the 65th anniversary of the film's debut, FAMP Art has teamed up with Corinth Films to release a set of prints for the 1949 Italian classic Ladri di biciclette, or, more commonly known as The Bicycle Thief (Bicycle Thieves).
In film circles, The Bicycle Thief is hailed as one of the best foreign language films ever made and ranks as one of the top films of all-time.  It's "Certified Fresh" on Rotten Tomatoes at 98%, sits in the top 100 of IMDB's Top 250, and can be found on countless other best foreign film lists.  It's a film-lover's film and we feel it is time that it made its debut in our crazy little collectible world.
To introduce Vittorio De Sica's Italian masterpiece to the screen printing community, FAMP Art sought out help from Xul1349, a Romania-based artist with heavy gothic influences, to tackle the challenge of bringing this Academy Award winning foreign language film to life.  To say he accomplished that goal is an understatement as Xul1349 managed to perfectly capture the look and feel of the film while also hinting at the drama to come in the story (as exemplified by the difference between the regular version and the variant).
There will be two versions of the print available, both of which measure 24"x18" and include metallic ink on the bicycle and the film title.  The regular version will have a limited run of 80 and cost $40; the variant will be more limited with a run of 45 and cost $55.  The prints will go on sale via the FAMP Art website on Monday November 24th between 1 and 2pm EST.
IMPORTANT NOTE: Due to license restrictions we can only ship this print to the US and Canada.