'Toy Story That Time Forgot' Promo Welcomes You To Battleopolis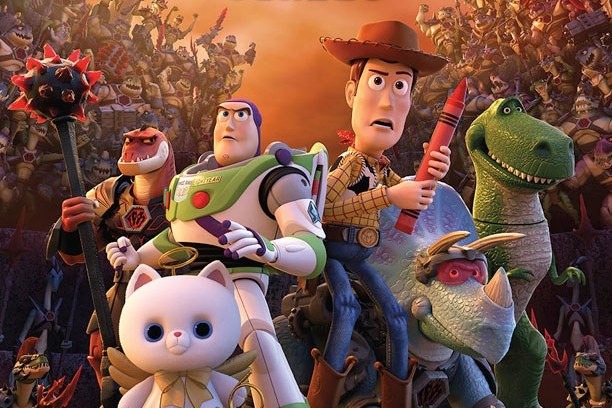 Toy Story 4 is still a few years away, but in the meantime we'll get to reunite with our favorite toys in Toy Story That Time Forgot. The half-hour TV special sees Woody, Buzz, and the rest of their friends encountering a line of reptile-warrior action figures. The only problem is, they don't know they're action figures. Hit the jump to see the new Toy Story That Time Forgot promo.
And here's a longer Toy Story That Time Forgot promo from a few weeks ago.
Woody (Tom Hanks) and Buzz (Tim Allen) are still the stars of the Toy Story franchise, but it's nice to see other characters get the spotlight in some of their briefer adventures. In Toy Story That Time Forgot the focus is on Trixie (Kristen Schaal), a triceratops who is initially eager to play with other dinosaur toys. Kevin McKidd also joins the cast as Battlesaur leader Reptillus Maximus.
Peter caught about 9 minutes of unfinished footage at Comic-Con this year and was impressed with what he saw.
While Toy Story 3 introduced a ton of new and clever toy character designs, Toy Story That Time Forgot introduces us to a whole new world — some great world building from the Pixar crew. You will believe that these toys could be part of a real 80?s style fantasy animated series. They don't feel like they were created just for this short adventure. [...]
My only concern is that today's children might not get many of the references. I'm not even sure a toy line/animated series of this nature exists today (although I could be wrong). But the kids in attendance seemed to be entertained by the further adventures of the familiar Toy Story characters even if they didn't get all the references or underlying truths.
Sounds like we're in for a real treat. Toy Story That Time Forgot premieres December 2 at 8:00 PM on ABC. It'll also air December 12 at 8:30 PM on Disney Channel. Wallace Shawn, Timothy Dalton, Don Rickles, and Joan Cusack reprise their roles alongside Hanks, Allen, and Schaal.
During a post-Christmas play date, the 'Toy Story' gang find themselves in uncharted territory when the coolest set of action figures ever turn out to be dangerously delusional. It's all up to Trixie, the triceratops, if the gang hopes to return to Bonnie's room.