'Seventh Son' Trailer Reminds You This Movie Still Exists, Still Hasn't Come Out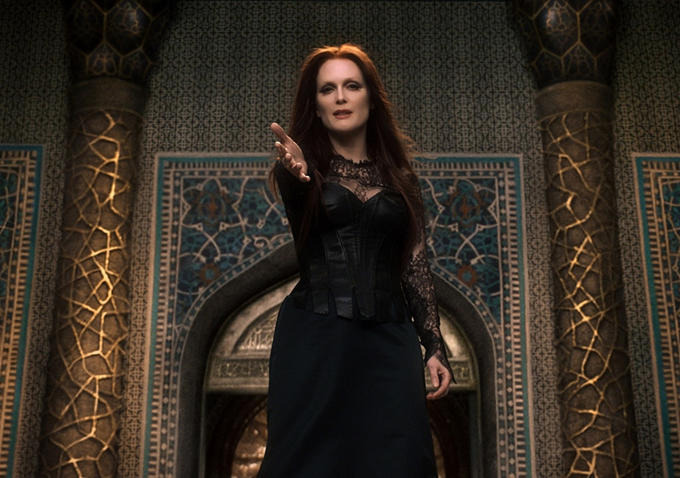 It's been four year since we first reported on Seventh Son (then called The Last Apprentice), three years since the film went into production, and two years since its originally scheduled release date. But the movie somehow still hasn't hit theaters, so today we have a new Seventh Son trailer to share with you.
Jeff Bridges leads the production as Master Gregory, the last member of a mystical order. He takes a prophesied hero named Tom Ward (Ben Barnes) under his wing, and together they two battle an evil witch queen (Julianne Moore) from unleashing hell. Hit the jump to watch the new Seventh Son trailer.
Fun fact: Alex Pettyfer and Jennifer Lawrence were courted for the leads in early 2011, and then Sam Claflin and Alicia Vikander. Claflin got as far as negotiations before dropping out, while Vikander eventually closed her deal to star with Barnes. Not that it's done Vikander much good. She's definitely on the rise, but it's not because of this fantasy adventure no one has ever actually seen. And Lawrence and Claflin eventually found another teen franchise to star in, so all's well that ends well.
Directed by Sergey Bodrov, Seventh Son is slated to open February 6, 2015. Or so Universal claims for now. With this movie's shitty luck, we wouldn't be all that shocked if it got pushed back yet again to February 2017.
In a time of enchantments when legends and magic collide, the sole remaining warrior of a mystical order (Oscar® winner Jeff Bridges) travels to find a prophesized hero born with incredible powers, the last Seventh Son (Ben Barnes). Torn from his quiet life as a farmhand, the unlikely young hero embarks on a daring adventure with his battle-hardened mentor to vanquish a dark queen (Julianne Moore) and the army of supernatural assassins she has dispatched against their kingdom.