Read Two Rumored 'Star Wars: The Force Awakens' Trailer Descriptions; Watch A Fan Made Trailer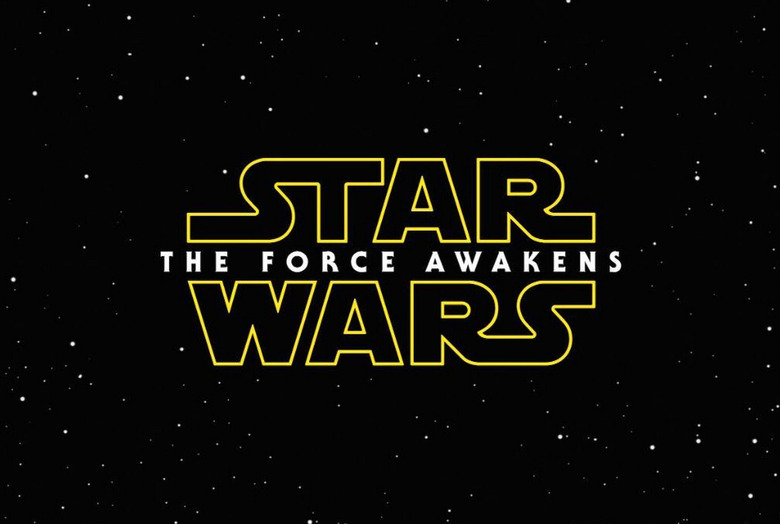 When will we see a trailer for Star Wars: The Force Awakens? As we reported a few weeks back, before the end of the year is incredibly likely. The rumor mill is buzzing about people who've seen footage from the film now that J.J. Abrams has completed filming and it sounds like the director wants to give fans something soon. Maybe a teeny, tiny tease to discuss over the holidays. Now, one site has what it believes is a description of the trailer. What happens in that footage? Read the Star Wars The Force Awakens trailer description below.
UPDATE: Watch a fan made version of the Star Wars: The Force Awakens trailer.UPDATE 2: A second description has also hit the internet. Read it below.
The first description comes from Badass Digest. Remember, this is a rumor, but it does sound remarkably like what we've heard we should expect soon:
It'll be short. And when I say short, I mean one minute long. It's going to have The Force Theme played on woodwinds, softly, over flashing images of the main leads, each fading to black. There's no dialogue, just reveals of the characters. And then the music swells up into a full orchestral piece – perhaps what John Williams recorded this weekend? – and we hear a female voice, likely Daisy Ridley's, saying "Wake up."
Oh boy, I get chills just thinking about it. But yes, this makes a lot of sense and ties into some of the rumors we've been hearing. We heard the trailer is incredibly short. We heard it just gives you brief glimpses at a bunch of the new characters. And, of course, we heard about John Williams recording some new music for this important piece of marketing.
This video, if it's true and when we get it, is exactly what Star Wars fans have craved. The smaller, briefest tease of what's to come. Something official to watch over and over, analyze and discuss. And the fact they might release it over a year before the film's release date, shows confidence.
What do you think of this Star Wars The Force Awakens trailer description?
UPDATE: This is from a few weeks ago but it kind of fits in line with this description. The Epsilon on YouTube made this fan-made teaser trailer for The Force Awakens. It's good intentioned but, considering there aren't any official images, it does feel a little rough (dead eye Daisy Ridley will haunt me for a while). Nevertheless, it's a solid effort and something to fill the time until the actual video is released.
Note: There might be one small spoiler in here based on a previous rumor.
UPDATE 2: Making Star Wars has now run their own rumored Star Wars: The Force Awakens trailer description. It's similar to the Badass Digest one in a few aspects, but different in a lot of others. Whether or not this is the same trailer or another one is unclear. It may also be a description of some kind of internal reel shown to Disney employees. Either way, it's an interesting selection of ideas. Here are some of the shots described by the site. Head there to read more.MINOR SPOILERS FOLLOW
Fade in from black, shots of the dunes, Boyega pops in to the shot from below. He's wearing white Stormtrooper armor but he doesn't have a helmet on.
In the teaser we only see Boyega and Ridley really.
Ridley boards a speeder.
She has a helmet on like Endor Leia, a design with pop-down goggles.
A shot of Ridley's speeder approaching the station (the TMZ set we saw).
We see the new Stormtroopers on a transport. The flight is turbulent.
New X-wings.
TIE Fighters.
The new Soccer Ball Droid
The new "Sith" is also revealed. He has a cross-beam lightsaber and the beam flickers strangely.
The Falcon.