Charlie Brown And Snoopy Get A 21st Century Makeover In New 'Peanuts Movie' Images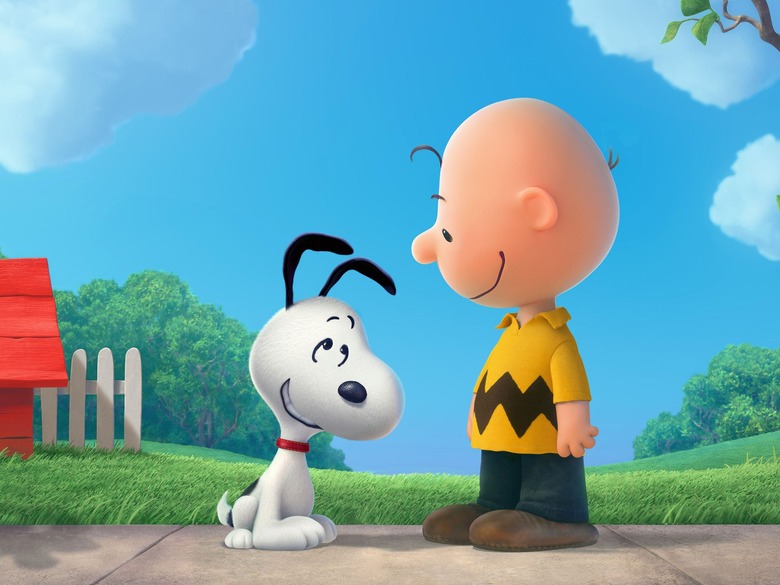 Charlie Brown and Snoopy turn 65 years young next year, and they've got some very big plans to mark the occasion. They'll be starring in The Peanuts Movie, a new 3D, CG-animated adventure featuring the classic characters created by Charles M. Schulz. Check out the new Peanuts Movie images after the jump.
In the accompanying article, USA Today confirms Charlie Brown and company "won't twerk, wear a baseball cap backwards or try to 'break the Internet' a la Kim Kardashian." And while it's not like I want to see Charlie Brown channel Miley or Kim, that just sounds like the most hilariously old-man list of fears ever. A backwards baseball cap? Oh, the horror!
But The Peanuts Movie isn't really going for old-fashioned, either. Instead, the filmmakers are aiming to capture the timeless quality of Schulz's original comic strips. And the new Peanuts Movie images give us hope they've succeeded. These aren't the hand-drawn, 2D animations of years past, which would look hopelessly outdated to kids today, but nor do they have that slick, plasticky sheen we've seen in a lot of other CG-animated 3D movies.
The plot of The Peanuts Movie remains a mystery for now. USA Today reports it'll follow Charlie Brown as he goes "on a quest to get something he's sure he needs, even though he discovers he's pretty OK just as he is." Director Steve Martino explained the appeal of the character's enduring optimism. "I wake up every day and it's like, 'Today's the day we're going to win that game! I'm going to kick that football!' As you have more life experience, those things have more meaning."
The Peanuts Movie will also involve a World War I dogfight against the Red Baron for Snoopy, and appearances from many familiar characters like Little Red Haired Girl, Fifi, Olaf, Woodstock, Linus, and Peppermint Patty. "You love being back in that world," said producer Paul Feig about the process of making The Peanuts Movie. "And you immediately want to grab every kid you know and go, 'Oh, my God, you've got to watch this!' "The Peanuts Movie opens November 6, 2015.