'Interstellar' Unlimited Ticket Allows You To See The Film As Many Times As You Want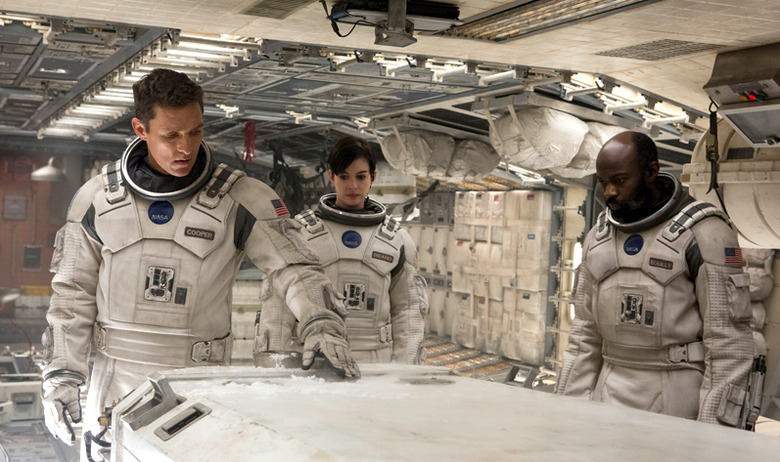 Whether you loved it or hated it, heard it or didn't, the one thing we can all agree on regarding Interstellar is that it is a fantastic conversation piece. Christopher Nolan's latest film has so many moving parts, so many budding mysteries and surprises, it's a movie that's well worth visiting more than once. Now, AMC Theaters is allowing you to do that as many times as possible for one price.
AMC is offering their members an industry-first "unlimited ticket" that'll get you into Interstellar whenever you want, for as long as it's playing. Below, read more about AMC's Interstellar unlimited ticket.
Here's the full press release on the Interstellar unlimited ticket. There isn't a website up yet to allow you to find info for your individual theater, but AMC Theaters would be a good place to start. The key info below is bolded.
AMC Theatres and Paramount Pictures are excited to offer AMC Stubs members a first-of-its-kind INTERSTELLAR Unlimited Ticket, which allows AMC's loyal moviegoers to see the film as many times as they'd like for one price. AMC Stubs members who have already seen the movie have an option to upgrade to the unlimited ticket at AMC.
For two weeks, movie lovers have flocked to AMC Theatres to experience Christopher Nolan's latest blockbuster, INTERSTELLAR. Guest feedback indicates that guests not only love the movie, many are expressing a strong interest in seeing it again in the theatre.
"Christopher Nolan has created a masterpiece that movie fans are saying gets better every time they see it," said Elizabeth Frank, executive vice president and chief content and programming officer, AMC Theatres. "The INTERSTELLAR Unlimited Ticket gives these fans an opportunity to experience the spectacular cinematography and heart-warming stories as many times as they would like – at any AMC location, any showtime, in any format, including IMAX."
INTERSTELLAR Unlimited Tickets are available for sale to AMC Stubs members at AMC box offices in 330 locations across the country. The INTERSTELLAR Unlimited Ticket price varies by location, ranging from $19.99 to $34.99. All AMC Stubs members who have already purchased a ticket to the movie can upgrade for $14.99. A commemorative INTERSTELLAR pass will be issued, which can be used at any AMC location playing the film. While the ticket is unlimited, quantities are not, and guests are encouraged to get their Unlimited Ticket while supplies last.
"INTERSTELLAR" stars Matthew McConaughey, Anne Hathaway, Jessica Chastain, Bill Irwin, Ellen Burstyn, John Lithgow and Michael Caine. With our time on Earth coming to an end, a team of explorers undertakes the most important mission in human history; traveling beyond this galaxy to discover whether mankind has a future among the stars. Directed by Christopher Nolan, written by Jonathan Nolan and Christopher Nolan, and produced by Emma Thomas, Christopher Nolan and Lynda Obst.
What do you think about this idea? Is it something you're interested in for this film? If not, what film would you buy an unlimited ticket for?