'Marco Polo' Trailer: Netflix Goes Exploring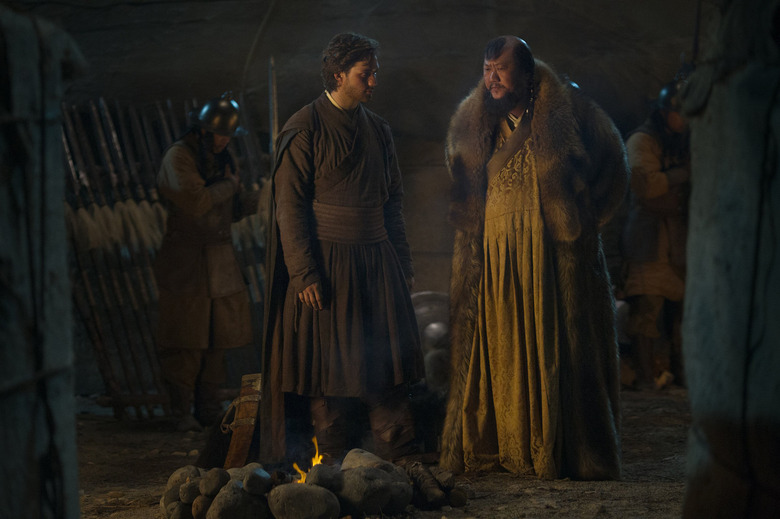 Netflix has already dabbled in political thriller, supernatural horror, and comedy-drama. Now it's tackling the historical epic with its new original series Marco Polo. Lorenzo Richelmy stars as the 13th century Venetian explorer, who sets out on the Silk Road. He winds up staying a while in China, where he gets caught up in the central court of Kublai Khan (Benedict Wong). Watch the new Marco Polo trailer after the jump.
IGN debuted the new Marco Polo trailer.
The new promo reveals somewhat more about the plot of Marco Polo. For starters, it seems Marco Polo never really intended to hang around in China — his dad just decided to offer him up as collateral with no warning. But hey, things work out pretty well for him in the end. We've all heard of Marco Polo, nearly seven centuries after his death. Most of us probably could not name his dad.
Along with the new Marco Polo plot info, the trailer also serves up all the usual trappings of a prestige drama. There's nudity and violence, and even one scene that offers up both at once. There are also tons of lush period details, complicated characters with a dark side, and some expertly staged, beautifully shot action scenes. Let's just hope it lives up to the promise.
All ten episodes of Marco Polo will hit Netflix Friday, December 12 at 12:01 AM Pacific time. Marco Polo was created by John Fusco. Joachim Rønning and Espen Sandberg (Kon-Tiki), Dan Minahan (Game of Thrones), and Harvey Weinstein serve as executive producers. Joan Chen, Zhu Zhu, Remy Hii, Olivia Cheng, Claudia Kim, Uli Latukefu, and Tom Wu also star.
Intrigue. Deception. Bloodshed. These are just some of the obstacles awaiting legendary explorer Marco Polo as he navigates the inner court of 13th century ruler, Kublai Khan. From the back alleys of Venice to the perilous Silk Road, from the opulence of the Imperial City to the battlefields of China, Marco Polo is an epic action-adventure, where cultures clash, blood is spilled, and lies are told...