There Will Be "At Least Three More" 'Fast And Furious' Movies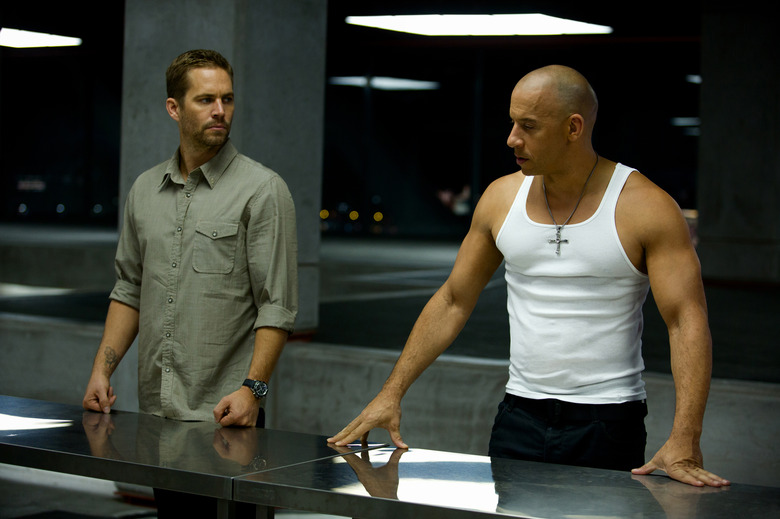 Earlier this week we reported Universal wanted Justin Lin back to direct the last few Fast and Furious movies back-to-back. But just because Universal is talking endgame doesn't mean the series is going out anytime soon.
Universal Pictures chairman Donna Langley has clarified that she believes there will be "at least three more" Fast and Furious films, which means we're looking at "at least three more" years of Fast and Furious films. Hit the jump for details on more Fast and Furious movies.
We think there's at least three more. [...] I think it's still a growing franchise. We'll see what happens with Furious 7, obviously, but our box office has grown over the past three or four films and internationally, in particular. So we think that there's more to mine there. But we're of course very mindful about fatigue.
The Fast and Furious franchise suffered a big blow last year when star Paul Walker passed away. However, Langley is confident the series can continue without him. "Paul is, and always will be, an integral part of the story," she said. "But there are many other great characters, and it's also an opportunity to introduce new characters."
Langley's comments suggest they're still figuring things out over at Universal. As she points out, they're still waiting to see what comes of Furious 7. But that probably also means a multi-film deal with Lin can't be locked in just yet. It's hard to imagine an in-demand filmmaker committing to an unspecified number of movies.
While Lin wasn't involved with the original The Fast and the Furious, he's had a bigger influence on the franchise than any other director. He's helmed four out of the seven installments so far, and it was under his watch that the series became one of Universal's most prized properties. James Wan took over the series starting with the upcoming Furious 7, but he may be too busy with The Conjuring 2 to do Fast and Furious 8 on Universal's schedule. Hence the Justin Lin rumors.
It's tricky to tell when the right time is to end a film franchise. End while the property's still hot, and you're leaving money on the table; wait until it's totally cold and your once-beloved property will have become a national joke. From here, three more films sounds like a good goal for the Fast and Furious franchise, but like Universal we'll have to see what happens with Furious 7 before playing armchair studio exec.
Do you think three more films is enough for the Fast and the Furious series, or are you holding out hope for more?