Video: Aubrey Plaza On Why Her Grumpy Cat Movie Is "The Weirdest Thing" She's "Ever Seen"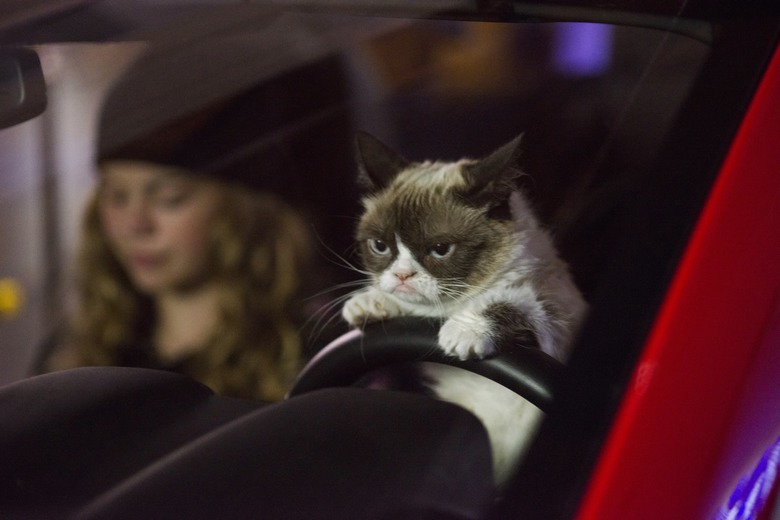 I've been way more interested in the Grumpy Cat television movie than I have any right to be. But something about the ridiculousness of the first Internet meme turned movie and the perfect voice casting of Aubrey Plaza has captured my imagination. We posted the Grumpy Cat's Worst Christmas Ever trailer last week, and it sadly looked like the quality you'd expect from a Lifetime Network movie — I almost deleted the scheduled recording off my DVR.
But Aubrey Plaza appeared on Jimmy Kimmel Live this week and talked about the film, which has prevented any rash DVR decisions on my part. Plaza has me interested in the film again, after claiming the movie will blow people away because it is "the weirdest thing I've ever seen", calling it "so confusing, operating on so many levels of irony that I can't even tap into them all — and I think Lifetime is only maybe tapped into one level." Plaza also discussed working with Grumpy Cat and having to deal with her large entourage and management group. Watch Aubrey Plaza's funny Jimmy Kimmel Live appearance embedded after the jump.
In Grumpy Cat's Worst Christmas Ever, Plaza voices Tardar Sauce, a cat living in a pet shop at the mall. Her lonely existence has led to a sour outlook, but her life changes one day when 12-year-old Chrystal (Megan Charpentier, Mama) walks into the store. The two become friends after Chrystal realizes she is the only person who can hear Tardar Sauce talk. Their ensuing adventure involves evil dognappers, life-and-death situations and, of course, the true meaning of Christmas.
In "Grumpy Cat's Worst Christmas Ever," Grumpy Cat is a lonely cat living in a mall pet shop. Because she always gets passed over and never gets chosen by customers, this kitty develops a sour outlook on life until...one day during the holidays, a very special 12-year-old girl named Chyrstal enters the pet store and falls in love with Grumpy Cat. A unique friendship is formed between the two when Chyrstal finds she is the only person who can hear this unique feline talk. In the middle of the holiday rush, Grumpy reluctantly thwarts the kidnapping of an expensive exotic dog she can't stand and rescues Chyrstal after the mall closes on Christmas Eve. Will Grumpy Cat learn the true meaning of Christmas, or will it be in Grumpy's words, "Worst. Christmas. Ever?"
Grumpy Cat's Worst Christmas Ever will premiere on November 29th 2014 on Lifetime.