'Song One' Trailer: Anne Hathaway Finds Love In Brooklyn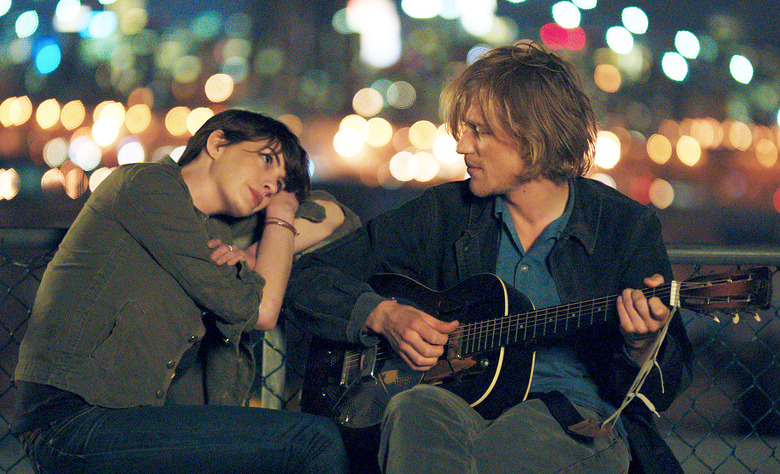 Anne Hathaway earned a Best Supporting Actress Oscar for her showstopping solo in Les Misérables, but in her new movie Song One she's the one watching in awe as someone else provides the music. Kate Barker-Froyland's indie romance stars Hathaway as an anthropology Ph.D. candidate who returns to her estranged family in Brooklyn after a car accident puts her brother (Ben Rosenfield) in a coma.
In an attempt to get to know the man her brother has become, she starts to seek out the artists he loved best. Eventually she falls for his very favorite musician of all, a folk singer named James Forester (Johnny Flynn). Watch the Song One trailer after the jump.
Song One doesn't lack for musical talent. In addition to leading man Flynn, who is a folk musician in real life, the film also features original songs by Jenny Lewis and Jonathan Rice, plus live performances by Sharon Van Etten, The Felice Brothers, Dan Deacon, Paul Whitty, Naomi Shelton and the Gospel Queens, Cass Dillon, and Elizabeth Ziman.
But the film itself doesn't look like anything spectacular. Song One seems to have plenty of heart but nevertheless got mixed reviews at Sundance, thanks to what reviewers have called "cliched" and "contrived" plot turns and some "sickeningly sweet" moments. If the idea of a twee Brooklyn romance set to modern folk music sounds wonderful to you, this will probably be right up your alley. If it doesn't, you're probably better off sitting this one out.
Song One hits theaters and on demand on January 23, 2015.
Oscar® winner Anne Hathaway (INTERSTELLAR, LES MISERABLES) stars as Franny in SONG ONE, a romantic drama set against the backdrop of Brooklyn's vibrant modern-folk music scene. After Franny's musician brother Henry (Ben Rosenfield, BOARDWALK EMPIRE) is injured and hospitalized in a coma following a car accident, Franny returns home after a long estrangement and begins to use his notebook as a guide to how his life has evolved in her absence. Franny seeks out the musicians and artists Henry loved, in the course of her journey meeting James Forester (Johnny Flynn), his musical idol, whose success and fame belie a shy and private man. As a strong romantic connection develops between Franny and James, the question becomes if love can bloom even under the most adverse circumstances.