Justin Lin May Return For Multi-Part 'Fast And Furious' Finale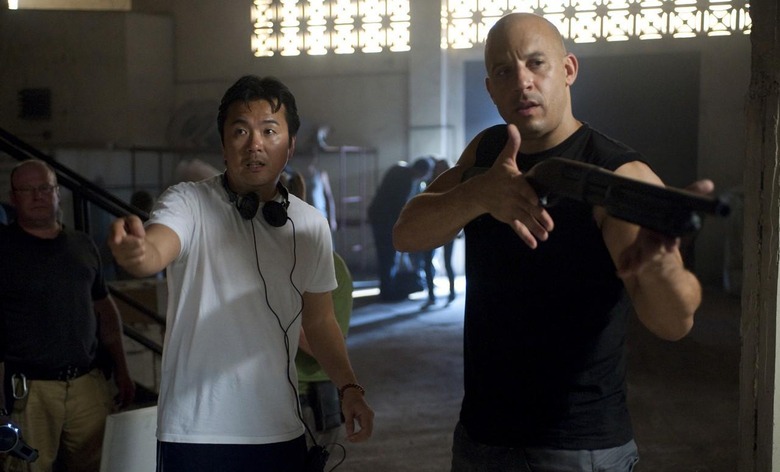 After four installments in less than 10 years, Justin Lin finally handed over the reins of the Fast and Furious franchise to James Wan for next year's Furious 7. But he may already be coming back for more. 
A new report indicates Lin and Universal could re-team for Fast and Furious 8 (or whatever it winds up being called) and an additional installment which will then close out the franchise. Hit the jump for more on the possible Justin Lin Fast and Furious 8 return.
Deadline has heard Lin and Universal will soon be discussing a multi-picture deal for the Fast and Furious franchise. According to their source, the idea is to have Lin direct the final installments of the series back-to-back.
Lin has directed four of the seven entries in the Fast and the Furious franchise: 2003's The Fast and the Furious: Tokyo Drift, 2009's Fast & Furious, 2011's Fast Five, and 2013's Fast & Furious 6. It was under his watch that the series went from a flagging also-ran to a massive moneymaker. In all, the series has grossed over $2.3 billion to date.
But Lin bowed out after Fast & Furious 6 to pursue other projects including the Bourne Legacy sequel starring Jeremy Renner as Aaron Cross. However, that picture now looks likely to get pushed back since Paul Greengrass and Matt Damon are set to return for another Jason Bourne movie. Meanwhile, Wan is attached to direct The Conjuring 2, so he's tied up for the near future.
All of which means Lin could very well find himself reunited with Dom Toretto and his crew for Fast and Furious 8 and beyond. He would have to finish his episodes of True Detective Season 2 before moving on to Fast and Furious 8, but doesn't seem to be firmly committed to any directorial efforts beyond that.
The exact number of movies left in the Fast and Furious franchise hasn't been specified. The Fast and Furious brand is still going strong for now, but every film series has to come to an end eventually — if only so some other enterprising exec can start planning the inevitable reboot. In the meantime, Furious 7 opens April 3, 2015.