'The Divergent Series: Insurgent' Trailer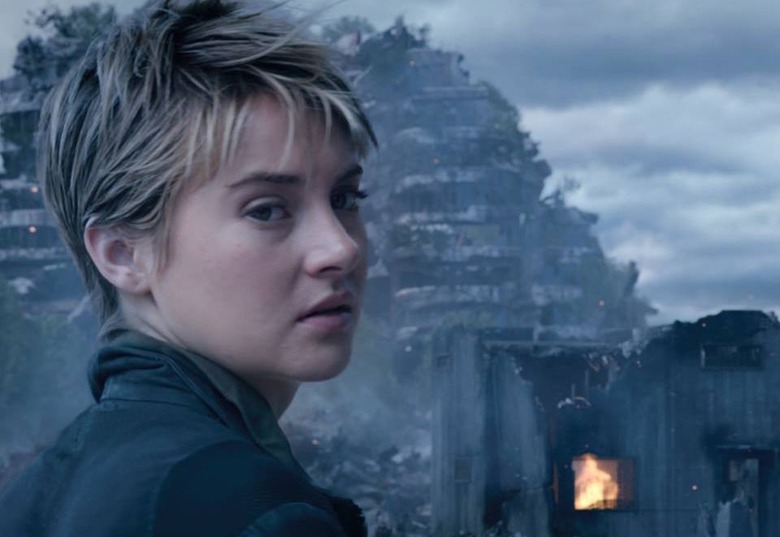 We're not even done with this year's crop of dystopian YA adventures (The Hunger Games: Mockingjay, Part 1 doesn't come out for another week) but already the Hollywood marketing machine is getting us primed for next year's.
The first dystopian YA movie of 2015 to get a trailer is The Divergent Series: Insurgent, which picks back up with Tris (Shailene Woodley) and Four (Theo James) in the aftermath of their big showdown against the powers that be in the last installment. Watch the first The Divergent Series: Insurgent trailer after the jump.
If you liked the world established in the last movie, you'll be happy to hear The Divergent Series: Insurgent goes deeper into some of its other corners. We'll see more of the Amity faction (hippie farmer types who value peace) as well as the Candor (staunch truth-tellers). We're also likely to get to know certain characters better including Tris' brother Caleb, played by Woodley's The Fault in Our Stars boyfriend Ansel Elgort.
The Divergent Series: Insurgent will open March 20, 2015. Among the new stars joining in on the fun this time are Octavia Spencer, Naomi Watts, Rosa Salazar, Suki Waterhouse, Daniel Dae Kim, Emjay Anthony, and Keiynan Lonsdale. Robert Schwentke (Red) directs.
The Divergent Series: Insurgent raises the stakes for Tris as she searches for allies and answers in the ruins of a futuristic Chicago. Tris (Woodley) and Four (James) are now fugitives on the run, hunted by Jeanine (Winslet), the leader of the power-hungry Erudite elite.  Racing against time, they must find out what Tris's family sacrificed their lives to protect, and why the Erudite leaders will do anything to stop them.  Haunted by her past choices but desperate to protect the ones she loves, Tris, with Four at her side, faces one impossible challenge after another as they unlock the truth about the past and ultimately the future of their world.