'Mortdecai' Trailer: Johnny Depp Plays Yet Another Weirdo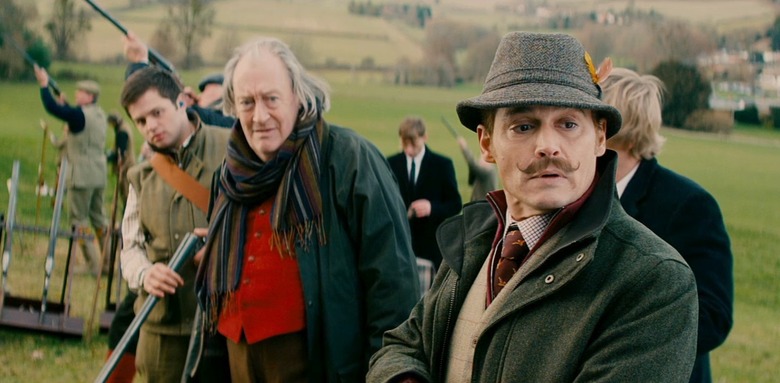 If you're starting to wonder if Johnny Depp is picking all of his movies based on how ridiculous they let him look, Mortdecai won't do much to dispel that notion. Depp leads the comedy caper as "debonair art dealer and part time rogue Charlie Mortdecai," who's tasked with tracking down a painting something something Nazi gold. It doesn't really matter, because the whole movie is really just Depp's excuse to sport a fake mustache/accent combo that rivals the one in Tusk. Watch the latest Mortdecai trailer after the jump.
Depp has always been good at playing extreme characters, but lately it seems like that's all he's interested in doing. The few minutes of Transcendence in which he had to play a relatively normal human being feature some of the least convincing acting I've seen onscreen all year. (The rest of it was also very unconvincing but for different reasons.) Personally I think Depp's schtick is getting tiresome, but your mileage may vary.
If you're still into it, Mortdecai does boast a solid cast including Gwyneth Paltrow, Paul Bettany, Ewan McGregor, Jeff Goldblum, Oliver Platt, Aubrey Plaza, and Olivia Munn. And if you're not, well, there's always next year's Black Mass. That one does have Johnny Depp sporting a fake bald head and (presumably) a Boston accent, but at least he's not sporting fake claws, white pancake makeup, or a dead bird on his head.
Mortdecai opens January 23, 2015. David Koepp (Premium Rush) directs.
Juggling some angry Russians, the British Mi5, his impossibly leggy wife and an international terrorist, debonair art dealer and part time rogue Charlie Mortdecai (Johnny Depp) must traverse the globe armed only with his good looks and special charm in a race to recover a stolen painting rumored to contain the code to a lost bank account filled with Nazi gold.