'Rocky' Spinoff 'Creed' Moves Forward With Two New Boxers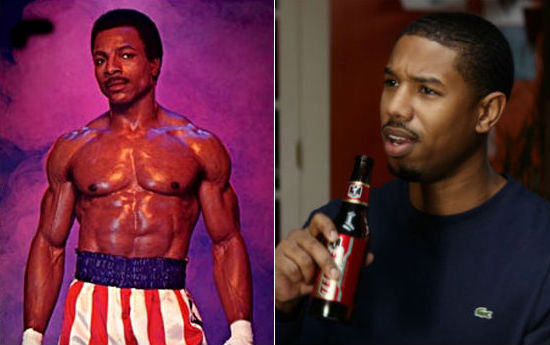 A new entry into the Rocky series has finally begun moving forward. Creed, directed by and starring the Fruitvale Station team of Ryan Coogler and Michael B. Jordan, has been in-development for over a year. It'll star Jordan as the grandson of Apollo Creed (Carl Weathers), the nemesis/friend of Rocky Balboa who died in Rocky IV. He's an up and coming boxer and asks his dad's old friend Rocky (Sylvester Stallone, reprising his iconic role) for help.
Now it seems like the film is aiming at a January start date and two champion boxers are about to sign on. Read more about the Rocky spin-off, Creed, below.
The Hollywood Reporter offered the Creed update. According to them, champion boxers Andre Ward and Tony Bellew are in negotiations to appear in the film. Ward's role is unclear but Bellew, a British fighter, will be the main adversary for the young Creed, a character named "Pretty" Ricky Porter.
If things work out, Creed will start shooting in January and the filming will take them between Las Vegas and Philadelphia, of course.
News of the film broke in July of last year and, since then, Jordan and Coogler have talked a lot about it but there hasn't been much public movement. Coogler in particular offered an interesting update saying the film's idea stemmed from his relationship with his father:
My dad and I are real close, and we were going through something pretty intense in our relationship around the time I was getting ready to make Fruitvale, and that's how I came up with the idea for Creed. He was a big Rocky fan, and I watched the movies with him.
He also talked about the screenplay, which is he co-writing with Aaron Covington. According to Coogler, Sylvester Stallone contributed too:
He wrote every Rocky movie there ever was, so although I'm writing the script, I'll definitely talk to him about it. Not only because he invented these characters, but because he'll have to be an actor in the film, so it's talking to him in both ways. Rocky isn't the main character in the story, but he's a major supporting player.
If filming starts early next year, there's a chance Creed could be in theaters by Holiday 2015, or definitely sometime in 2016.