'Exodus: Gods And Kings' Trailer: The Wrath Of God Is Coming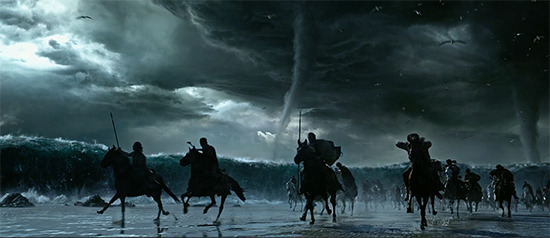 The first trailers for Ridley Scott's new film Exodus: Gods and Kings spent a lot of time on the familiar relationship between Moses (Christian Bale) and Pharaoh Ramses (Joel Edgerton), in order to let us know that this isn't just another retelling of the story of Exodus as it has been told on the screen before. But that story is definitely here, and this final Exodus trailer opens the floodgates that held back the wrath of God.
This trailer focuses on the darkness that threatens to fall over Egypt if Ramses decides not to free Moses' people. And we all know how that story plays out. We've seen bits of the visualization of the Red Sea in past trailers, and hints of the plagues that beset Egypt, but this trailer offers up a lot more spectacle.
I think the most intriguing edit in that trailer is the one that suggests Bale's Moses actually carved the commandment tablets himself. That may not be something we see in the film — it could be only a suggestive edit here.
Apple has the trailer.Exodus: Gods and Kings opens on December 12.
From acclaimed director Ridley Scott (Gladiator, Prometheus) comes the epic adventure "Exodus: Gods and Kings," the story of one man's daring courage to take on the might of an empire. Using state of the art visual effects and 3D immersion, Scott brings new life to the story of the defiant leader Moses (Christian Bale) as he rises up against the Egyptian Pharaoh Ramses (Joel Edgerton), setting 400,000 slaves on a monumental journey of escape from Egypt and its terrifying cycle of deadly plagues.