Rumor: Margot Robbie To Play Harley Quinn In 'Suicide Squad'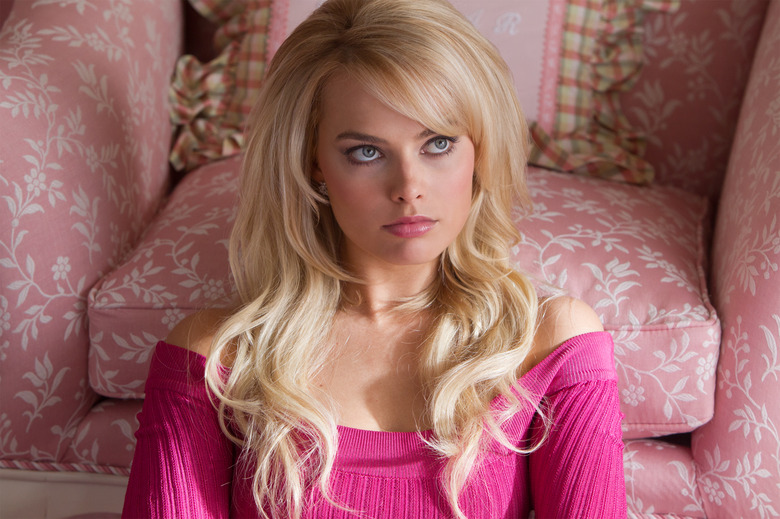 As of now, David Ayer's Suicide Squad has zero officially confirmed stars. But based on what we've heard so far, it is obvious they're aiming big. Jared Leto is apparently being eyed to play the Joker, Jesse Eisenberg is rumored to reprise his Batman v Superman: Dawn of Justice role as Lex Luthor, and Will Smith and Tom Hardy all supposedly have offers.
Today's big news is that The Wolf of Wall Street scene-stealer Margot Robbie could also join in on the comic book shenanigans, as Batman baddie Harley Quinn. Hit the jump for more on the Margot Robbie Suicide Squad rumor.
Collider picked up the Margot Robbie Suicide Squad story from their sources. We're filing this one as rumor just to be safe, but it does fit with a THR report from last month indicating Robbie had an offer for an unspecified part. It would also explain why Joker might be in the movie, even though he's not part of the team in the books. It does contradict Latino Review's earlier speculation that Cara Delevingne was being eyed, but maybe she's gunning for a different role.Suicide Squad has been described by Ayer in loose terms as "Dirty Dozen with supervillains." The government offers several supervillains the chance to redeem themselves, in exchange for their going on risky, borderline suicidal black-ops missions. As with most comic book teams, the specific line-up has changed several times over the years but we have heard Amanda Waller, Deadshot, Harkness, and Vixen might be part of the Suicide Squad in the movie.
First introduced in 1992 as a minor character on Batman: The Animated Series, Harley Quinn proved so popular she was introduced as a character in the comics the following year. Despite that, Suicide Squad will be the first-ever portrayal of Harley Quinn on the big screen. (Assuming the rumors are true, that is.) There were plans to put her in Joel Schumacher's Batman Triumphant, but that movie never got made.
The character's origins are inextricably linked to the Joker. As the story goes, she started out as Harleen Quinzel, a psychiatrist at Arkham Asylum. She meets the Joker when she tries to analyze him, but ends up falling in love with him instead. She subsequently quits her job to become Harley Quinn, Joker's girlfriend and sidekick. Harley Quinn is also closely associated with fellow Batman villain Poison Ivy, who's also part of the Suicide Squad at various points in the comics.
Robbie's certainly got the charisma to make Harley Quinn work, and by the time the film actually comes out in a couple of years she'll have the star power too. Right now she's known mostly for The Wolf of Wall Street but she has several high-profile projects coming up including Focus and Tarzan (both of which are also set up at Warner Bros.), the Tina Fey comedy Taliban Shuffle, and the sci-fi pic Z for Zachariah.
Suicide Squad is expected out August 5, 2016.