Exclusive 'Starry Eyes' Clip: The Final Interview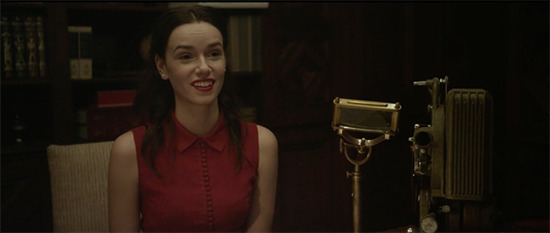 Starry Eyes is a great independent horror film that follows a young woman who goes further than she ever imagined possible in her quest for fame. Alexandra Essoe turns in a killer performance in the lead role, and we see her character Sarah go through real hell as she abandons all anchors to her past life in the pursuit of her dreams.
We've got an exclusive extended Starry Eyes clip, in which Sarah is invited for a meeting with her producer, and finds that she just might be in over her head. One unwelcome aspect to his overture is not entirely unexpected, but there's a wrinkle that suggests Sarah is facing a weirder situation than most would be prepared for. 
Starry Eyes will be on iTunes and VOD, and in theaters on November 14. Here's the trailer. Clip thanks to Dark Sky Films.
Determined to make it as an actress in Hollywood, Sarah Walker spends her days working a dead-end job, enduring petty friendships and going on countless casting calls in hopes of catching her big break. After a series of strange auditions, Sarah lands the leading role in a new film from a mysterious production company. But with this opportunity comes bizarre ramifications that will transform her both mentally and physically into something beautiful... and altogether terrifying.