'Better Call Saul' Set Video Starts Teasing Secrets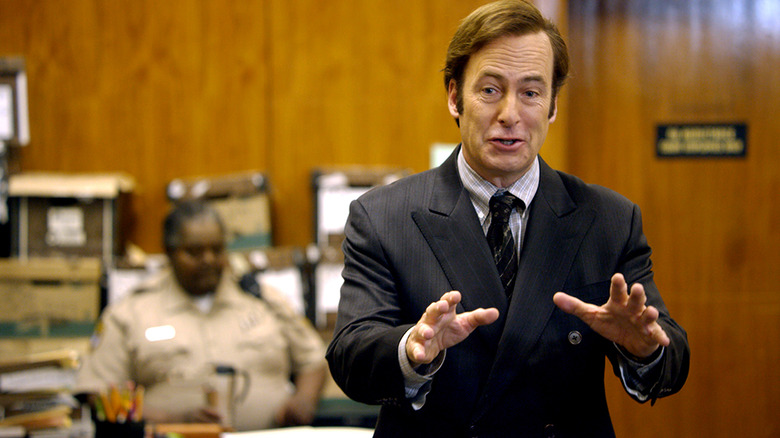 There are a few revelations in the first behind the scenes set video of AMC's upcoming Breaking Bad spin-off, Better Call Saul. The show stars Bob Odenkirk as the slimy lawyer from Breaking Bad, and if you haven't followed along with the early promos for the show, one revelation here is that Saul Goodman isn't the guy's real name. He's really Jimmy McGill. That's just the very tip of the character expansion Saul is getting in this new show, however, and I'm so in. (Who am I kidding, I was already in.)
The video also features tons of the new actors and below the line talent discussing how special it is to be back in the A.B.Q — Albuquerque, New Mexico — to shoot the series. Check out the Better Call Saul set video below.
Better Call Saul Set Video
Thanks to AMC for the video.
Whether or not the Jimmy McGill reveal was news to you, there are a lot of other interesting things in this video. We see that we'll meet McGill/Goodman's father and he's played by Michael McKean (earlier reports had him as someone else). We already knew Jonathan Banks was returning as Mike Ehrmantraut but it's great to see him after the fate he suffered. And a few of the new cast members tease lots of Breaking Bad connections too.
Better Call Saul is set to premiere sometime in February 2015. It's described as mostly a drama, but with some humorous elements. It's not a Breaking Bad prequel, either. According to producers, the show is envisioned as a companion piece to that show, and will jump around in time from before the events in Breaking Bad, to after events of the show. It will even drop in during some of the Breaking Bad timeline. For me, that's what I'm most excited about. To see how Vince Gilligan and his team create a show that's worthy of following such a masterwork.
What did you think of this Better Call Saul set video?