'Hunger Games' Stage Show Coming To London In 2016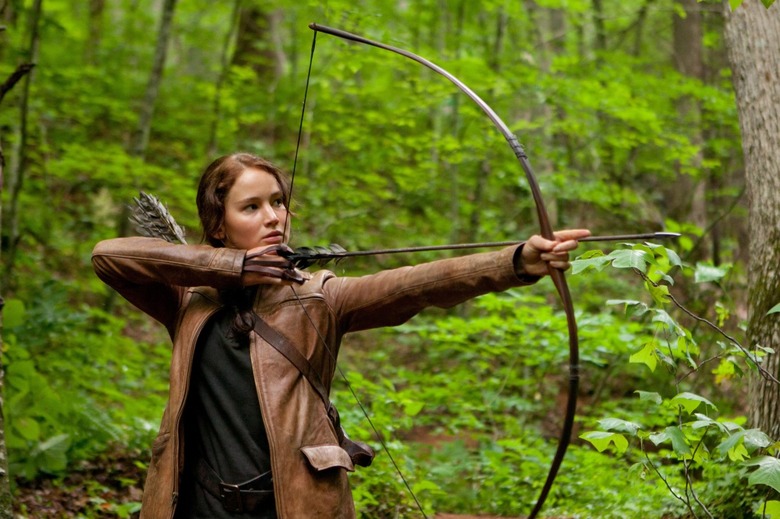 Lionsgate has stretched out the Hunger Games film series about as far as it can go, even breaking up the final installment of Suzanne Collins' book trilogy into two movies. Even so, it's set to end next year with The Hunger Games: Mockingjay – Part 2. So what's a company to do when its billion-dollar movie franchise has run its course? Apparently, it looks to the stage.
The studio has announced plans to launch a Hunger Games "theatrical experience," which will open doors in the U.K. in 2016. Get more details about the Hunger Games stage show after the jump.
A custom theater is being built just for the Hunger Games stage show, next to London's Wembley Stadium. The companies are also planning a traveling exhibit but haven't revealed any specific locations or dates as of yet.
The Hunger Game stage show will be produced by Robin de Levita, who's won Tonys for his work on the Broadway shows Titanic (1997), 42nd Street (2001), and Into the Woods (2002). His recent Dutch musical Soldier of Orange involved a 360-degree rotating auditorium, while his Anne Frank drama ANNE featured a rotating, life-sized stage set. So when he promises "innovative and immersive staging techniques" for The Hunger Games, there's a good chance he means it. "Robin de Levita and the entire production team are the perfect partners for extending The Hunger Games franchise into a live theatrical experience," said Lionsgate Chief Marketing Officer Tim Palen. "Their creative genius, combined with world-class production values and state-of-the-art technology will provide a uniquely immersive experience for fans around the world."
The stage probably isn't where most Hunger Games fans expected Katniss to go next, but it makes sense. Fans might be skeptical about more Hunger Games movies not based on Collins' books, and it's obviously way too soon for a reboot. At the same time, the same fans are probably open to other ways to get their Hunger Games fix.
Other hit film franchises have faced similar challenges in recent years, and responded in various ways. Harry Potter lives on as an incredibly popular amusement park, and is soon getting a big-screen spinoff. Twilight has commissioned a bunch of short films for Facebook. And Disney is the king of the screen-to-stage adaptation, with The Lion King and Aladdin on Broadway at this very moment and a Frozen musical currently in the works.
The Hunger Games: Mockingjay – Part 1 arrives in cinemas on November 21, followed by The Hunger Games: Mockingjay – Part 2 on November 20, 2015.