Watch The Trailer For Under-The-Radar Indie Charmer 'Goodbye To All That'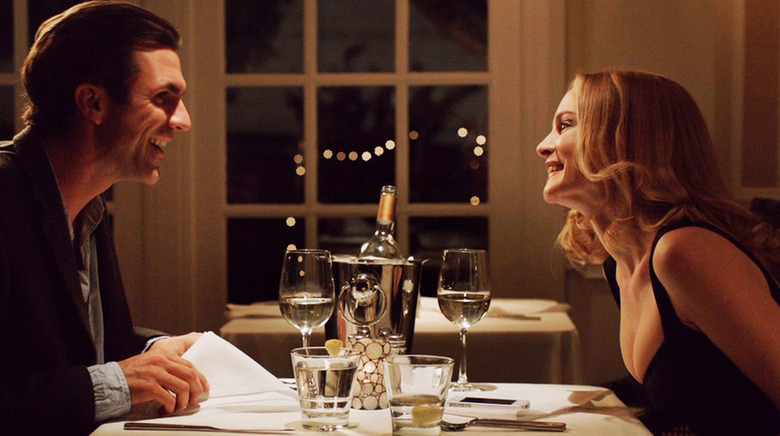 One indie film that's mostly flown under the radar is Goodbye to All That, which premiered at the Tribeca Film Festival this past spring. But judging by the first trailer, it may be time to give this one a closer look.
Goodbye to All That is the directorial debut of Angus MacLachlan, screenwriter of the remarkable Junebug. Paul Schneider stars as a newly divorced dad trying to navigate the single life for the first time in years. Okay, so the premise sounds a bit familiar, but the execution looks far above average thanks to MacLachlan's warm, honest approach and engaging performances all around. Watch the first Goodbye to All That trailer after the jump.
Goodbye to All That got some very good reviews at Tribeca. Indiewire warned that it might "charm the pants right off of you," The Playlist called it "wonderfully authentic and perfectly touching," and The Film Stage found it to be "an exciting directorial debut." And it seems to be the rare romcom that's genuinely sexy, which should be a refreshing change of pace from the terrible, awkward sex usually had by indie dramedy protagonists.Goodbye to All That hits VOD and theaters on December 17. Melanie Lynskey, Anna Camp, Heather Lawless, Heather Graham, Ashley Hinshaw, and Michael Chernus all star.
Paul Schneider (Parks and Recreation) stars as a newly single dad navigating the good, the bad, and the weird of the 30-something singles scene in this whip-smart comedy. When his wife unexpectedly informs him that she wants a divorce, well-meaning but oblivious husband Otto Wall (Schneider) finds himself thrust back into bachelorhood. Cue a hilarious sequence of romantic encounters—from reconnecting with a former crush to online dating—as Otto searches for the real thing amidst a string of one night stands. Directed by the acclaimed writer of Junebug, this sexy farce co-stars Anna Camp, Heather Graham, Amy Sedaris, and Melanie Lynskey.