Watch: Michael Keaton Plays A Superhero In '90s-Style 'Birdman Returns' Trailer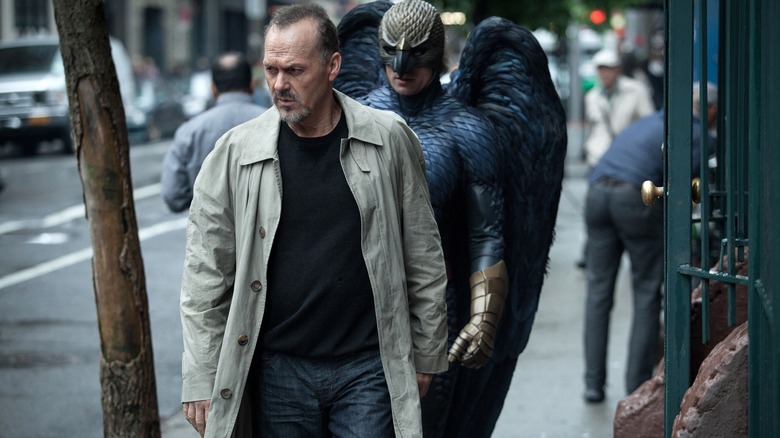 We've already seen a bunch of trailers for Alejandro González Iñárritu's Birdman, but as the film continues its expansion across the country the team over at Fox Searchlight are trying something a little different.
The latest Birdman promo isn't really a Birdman promo per se, but a (fake) trailer for Birdman Returns, the 1992 superhero sequel starring Michael Keaton's Riggan Thomson. Watch the Birdman Returns trailer after the jump.
Fox Searchlight posted the Birdman Returns trailer on YouTube with the following caption:
#TBT: in 1992, Riggan Thomson makes box office history in BIRDMAN RETURNS. It will be another 4 years before Riggan famously pulls out of BIRDMAN 4 and disappears off the face of the planet until reviving his career on Broadway!
So this is a fake trailer for a fake movie starring a fake actor, all as part of a real marketing campaign for a real movie starring a real actor whose career trajectory is not entirely unlike that of the fact actor's. And Fox Searchlight freakin' nails it. All the details look just right, down to the fuzzy quality of the video.
It's impossible to see this and not think about what Keaton really doing in 1992.
The layers of meta, they are thick. Keaton isn't really Riggan Thomson — a point that becomes abundantly clear when you watch the movie — but both González Iñárritu's Birdman and its marketing campaign work better if audiences go in with their superficial similarities in mind. The Birdman Returns trailer seems like the perfect way to do just that.
Birdman is in theaters now.
BIRDMAN or The Unexpected Virtue of Ignorance is a black comedy that tells the story of an actor (Michael Keaton) — famous for portraying an iconic superhero — as he struggles to mount a Broadway play. In the days leading up to opening night, he battles his ego and attempts to recover his family, his career, and himself.