Michael Shannon Is Elvis To Kevin Spacey's Nixon In 'Elvis & Nixon'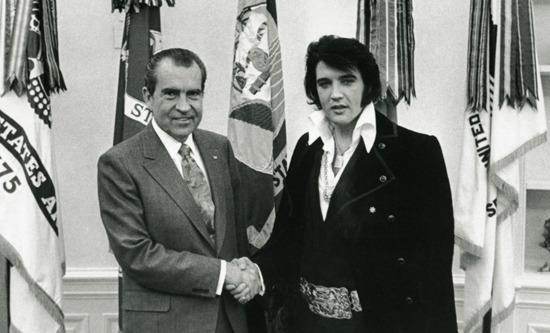 Elvis Presley has been portrayed by many actors over the decades since his death in 1977. That doesn't make the idea of seeing Michael Shannon play the singer any less head-turningly odd. Pair him with Kevin Spacey as Richard M. Nixon and you might have something really... weird. The two actors have been cast in Elvis & Nixon, which is inspired by the unlikely photo op that resulted in the photo above, taken in 1977.
This isn't the first film based on the pic; there's a comedy called Elvis Meets Nixon, which was made in 1997. And there has been a new effort to turn this photo into a movie for at least three years. In 2011, it was going to be directed by Cary Elwes (yeah, that Cary Elwes) with Eric Bana and Danny Huston in the lead roles.
Now Liza Johnson will direct — or that's the current announcement, anyway, coming out of the American Film Market. This cast is probably more likely to ignite distributor interest than the last one did, so we'll see how it goes. Here's the press release, which mentions that the script is still one which features work from Cary Elwes, from that development effort years ago.
***
LOS ANGELES (November 5, 2014) – Academy Award® Nominee Michael Shannon (MAN OF STEEL, REVOLUTIONARY ROAD) will star as Elvis Presley alongside two-time Academy Award® Winner Kevin Spacey (AMERICAN BEAUTY, THE USUAL SUPSPECTS) who will star as Richard Nixon in the extraordinary true story ELVIS & NIXON. To be directed by Liza Johnson (HATESHIP LOVESHIP, RETURN), ELVIS & NIXON is based off a screenplay by Cary Elwes and Hanala and Joey Sagal. Cassian Elwes (Dallas Buyers Club, The Butler), and Holly Wiersma (DALLAS BUYERS CLUB, BOBBY) are producing while Byron Wetzel and Prescience's Tim Smith and Paul Brett are executive producing. Prescience is financing the film which BLOOM is introducing to foreign buyers at AFM.Two men at the height of their powers, conscious they could not stay on top forever, both ripped with fear of the inevitable, sharing one famous private moment in the Oval office. ELVIS & NIXON recounts the morning of December 21st 1970, when the King of Rock' n Roll (Michael Shannon) showed up on the White House lawn to request a meeting with the most powerful man in the world, President Richard Nixon (Kevin Spacey). He had a very urgent request: to be sworn in as an undercover Federal Agent at large. This intimate moment in the Oval office between two men at the height of their powers has never been told.