Netflix Making Lemony Snicket's 'A Series Of Unfortunate Events' Series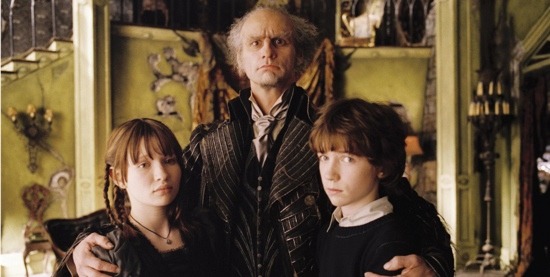 In a very fortunate event, Netflix has picked up the rights to Lemony Snicket's A Series of Unfortunate Events. The streaming service plans to adapt the books, which center around three orphans put into the care of the villainous Count Olaf, as a live-action family series.
Previously, the novels were turned into a 2004 movie starring Jim Carrey and Meryl Streep. It grossed $209 million worldwide but that wasn't enough to kickstart the franchise Paramount had hoped for, so now it's trying again on TV. Hit the jump for more on the new Netflix Lemony Snicket show.
Variety reports Netflix is fast-tracking the project. The search for a director who can bring Lemony Snicket's detail-rich world to life is already underway. No cast or writers have been announced as of yet. Paramount Television will produce in association with Netflix.
The A Series of Unfortunate Events book series consists of 13 installments published between 1999 and 2006. Lemony Snicket is narrator of the books as well as the pseudonym of author Daniel Handler who, the joke goes, is "often mistaken" for Snicket. The novels are known for their macabre elements, dark sense of humor, and Gothic or steampunk-y setting.
The story centers around Violet, Klaus, and Sunny Baudelaire, whose parents have just been killed in a house fire. They're sent to live with a distant relative called Count Olaf, who'll stop at nothing to steal the fortune that the children inherited from their parents. The kids try to avoid Olaf's evil clutches while figuring out what happened to their mom and dad.
The Lemony Snicket books were hugely successful and critically acclaimed. The 13 installments, published between 1999 and 2006, have sold over 65 million copies altogether and been translated into 43 languages. A Series of Unfortunate Events has also inspired a video game, a board game, and a card game.
"On the search for fantastic material that appeals to both parents and kids, the first stop for generations of readers is A Series of Unfortunate Events," said Netflix VP of Original Content Cindy Holland. "The world created by Lemony Snicket is unique, darkly funny, and relatable. We can't wait to bring it to life for Netflix members."
Snicket also offered his two cents from an undisclosed location, sounding like his usual pessimistic self. "I can't believe it," he said. "After years of providing top-quality entertainment on demand, Netflix is risking its reputation and its success by associating itself with my dismaying and upsetting books."