Watch Lovely 'Sock Monkey' Proof Of Concept Footage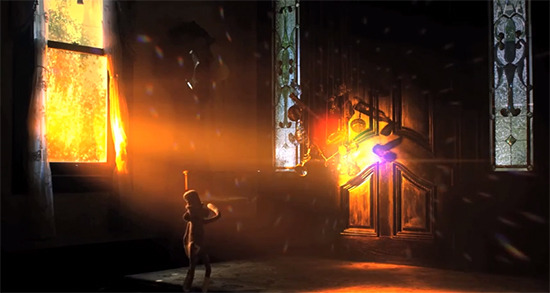 I envy anyone who is discovering the comics of Tony Millionaire for the first time. For a couple decades, Millionaire has been crafting his Victorian-inspired and intricately illustrated strip Maakies, and importing characters from that strip into the slightly more long-form Sock Monkey comics. Maakies is decidedly not kids stuff — it's a dark, messed-up strip with characters like the perpetually drunk and occasionally suicidal Drinky Crow. But Sock Monkey is a great set of all-ages stories, energized by a spirit of classic adventure and a gorgeous illustration style. Now there's some Sock Monkey footage that acts as a test reel for a potential film.
Millionaire and Matt Danner are hoping to translate their upcoming book into a movie, and they've made a great piece of proof of concept animation. This uses hybrid CG and live-action "digi-nette puppetry" to animate the title character as he explores an old Victorian house. Watch the short clip below.
Here's a brief explanation of the footage from the YouTube page, as pointed out by Deadline.
Inspired by Tony Millionaire's Sock Monkey books, Uncle Gabby springs to life in an old Victorian house to watch a sunset through the Great Glass Doorknob.
The film is based on Sock Monkey: Into Deep Woods, which was conceived as a film, then written as a childrens book, which will be published on November 16. Now Millionaire and Danner are taking this concept and the pitch to studios. Danner shot the footage above in one day using, according to Deadline, " five different "digi-nette" puppets on a practical set" and finished the footage with CG.
The story "follows stuffed hero Uncle Gabby as he and his doll pals venture across sea, land, and air to save their human, Ann-Louise, whom they fear has been kidnapped by a vicious monster."
Fantagraphics recently released a lovely hardcover collection of Sock Monkey stories (it was one of my only Comic Con purchases this year) and the publisher offers this preview: