Harmony Korine Sets 'The Trap' For Jamie Foxx And Benicio Del Toro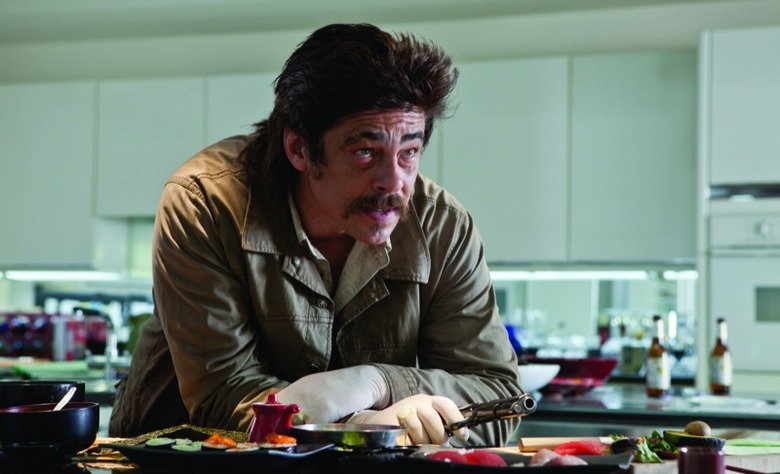 Harmony Korine is following up Spring Breakers with another crime drama. The indie auteur is getting the pieces together for The Trap, a Southern revenge pic which now has Jamie Foxx and Benicio Del Toro attached to star. Hit the jump for more on Harmony Korine's The Trap casting.
Del Toro was last seen in a colorful supporting role in Marvel's Guardians of the Galaxy, and has another colorful supporting role coming up in Paul Thomas Anderson's Inherent Vice. Next year, he'll star as legendary drug kingpin Pablo Escobar in the romantic drama Escobar: Paradise Lost.
Foxx has had a big year as well. Earlier this year he played villain Electro in The Amazing Spider-Man 2, and he has two more major releases due before the year's out — the comedy sequel Horrible Bosses 2 and the family musical Annie. Variety notes Foxx will be the first Oscar winner to ever appear in a Korine film.
Korine is coming off of Spring Breakers, his most commercially successful feature directorial effort by far. It made more in its limited opening weekend than Gummo or Julien Donkey-Boy did in their entire runs. It also got more critical buzz than a lot of his other movies have, particularly for James Franco's performance.
The filmmaker, who has called The Trap his "most ambitious film to date," will both write and direct. John Lesher and Charles-Marie Anthonioz are producing. The Trap is on track to shoot in Miami early next year, so expect to see it on the festival circuit in late 2015 or 2016.