Star Wars Bits: Simon Pegg, Benedict Cumberbatch And A Cantina? Plus After Party And Peter Jackson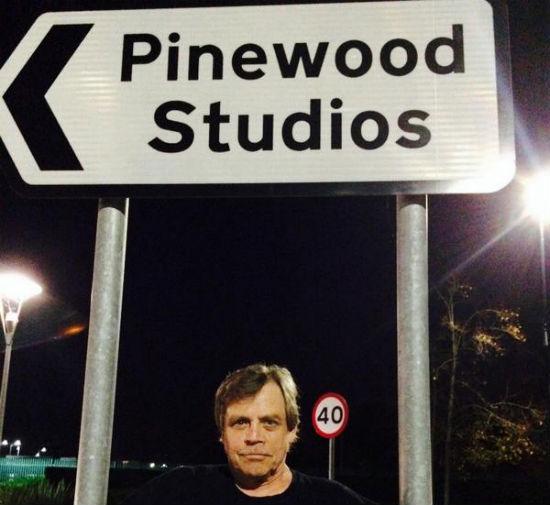 Lots of awesome Episode VII talk highlights this edition of Star Wars Bits. Below, read about the following.
Some fun rumors pop up about Episode VII cameos for Simon Pegg, Benedict Cumberbatch and the role of Warwick Davis.
A full, rumored scene is described as well as a hint at the film's opening.
Read some news and see some photos from the Star Wars Episode VII wrap party.
Mark Hamill has shaved his Star Wars Episode VII beard.
Actress Christina Chong talks working on Episode VII.
An upcoming book will reveal a new Episode VII ship.
Does concept art highlight changes made from the Michael Arndt script to the J.J. Abrams/Lawrence Kasdan one?
Peter Jackson also visited the set of Star Wars Episode VII.
See the Hot Toys Stormtrooper figures.
An official Star Wars costume exhibit has been announced.
Star Wars 7 News got some intel from a new source that's very fun. Whether or not it's true, that's a whole other argument. First up, the non-spoiler stuff. They say Warwick Davis plays a "Cantina Musician" and that both Simon Pegg and Benedict Cumberbatch filmed cameos where they wouldn't be recognizable.
Pegg's in particular leads into possible minor spoilers. The site describes a scene early in the film that sounds semi-similar to the Cantina scene in Episode IV. Head there for specifics, including lines of dialogue, so if it's true, it's obviously a spoiler. But Pegg's character plays a role along with Daisy Ridley, Harrison Ford and John Boyega. Maybe even Lupita Nyong'o. Also in the article, a tease that the opening of the film is filled with easter eggs including one specific, well-known ship. Head here to read more. End spoilers.
As mentioned Monday, this past weekend, there was a massive wrap party now that production on Star Wars Episode VII has finished. John Boyega posted some videos and photos from the event, and The Hollywood Reporter has a good recap, including news that including all the people you'd expect to be there (J.J. Abrams, Mark Hamill, Harrison Ford, Carrie Fisher, Daisy Ridley, Andy Serkis) Simon Pegg was in attendance too. Also, Making Star Wars found some other former Star Wars actors at the event.
Also marking the end of filming, Mark Hamill took to social media to post some images that not-so-subtly revealed he's shaved his Jedi beard from Episode VII.
Happy Halloween UK style to my favourite Horror Host @Svengoolie! @DaveFuentes5 pic.twitter.com/oYVG4GvJ1n

— Mark Hamill (@MarkHamill) October 31, 2014
While we don't technically know who any of the new Star Wars Episode VII cast members are playing, we don't even officially know Christina Chong is in the movie. It's never been announced, but in a new article on The Standard (via SW7News) she does talk a bit about the role and who she worked with. The text suggests something significant:
Those in charge of the Star Wars publicity juggernaut have told Chong she has to be careful and not divulge too much about her role until the hotly awaited film is out next year but she will be working with just about everyone, from Harrison Ford to Carrie Fisher and fellow Londoner Daisy Ridley. "Unfortunately, all I can say is it was incredible to be involved. It is probably the biggest film in cinema history and to be part of that is amazing. People are very fond of it."
We may have covered this before but, just in case, Making Star Wars was alerted to an Amazon description of a book called Star Wars: Ships of the Fleet, which comes out in June. It promises the first reveal of a new ship from Episode VII. However, won't we have seen a good chunk of stuff by June?
Making Star Wars continues their great job of breaking down Star Wars Episode VII concept art (we'll have more specifics later this week) but one article in particular goes above and beyond. The site looks at images that seemingly show the same event in the film (we won't say which but it's a semi-minor spoiler) and how they changed over the months. Verdict? It could be an example of how the Michael Arndt script changed once J.J. Abrams and Lawrence Kasdan took over.
As if you weren't already jealous of Peter Jackson, add another reason to the list. Star Wars 7 News was listening to Adam Savage's podcast and noticed that Savage mentioned he was in New Zealand talking to Peter Jackson, and he told Savage about visiting the set. You can listen to the clip below. Fast Forward to 18:25.
Hot Toys made collectors very happy recently when they revealed they'd acquired the license to make Star Wars toys. First were Han and Chewie and now, they've revealed some Stormtroopesr. Seems odd to go from two iconic characters down to such a disposable one but, the figure is beautiful none the less. You can read more about it, and see additional photos at this link. At least it comes with two. Here are some photos.
Finally, an official Star Wars costume exhibit has been announced. It's called Star Wars and the Power of Costume and will open at the Seattle EMP Museum on January 31, 2015. From there, it'll travel all over the world. Over 60 costumes from the series will be on display Head to the official site for more information.