Sequel Bits: 'Dumb And Dumber To', 'Harry Potter', 'Trainspotting 2', 'Magic Mike XXL'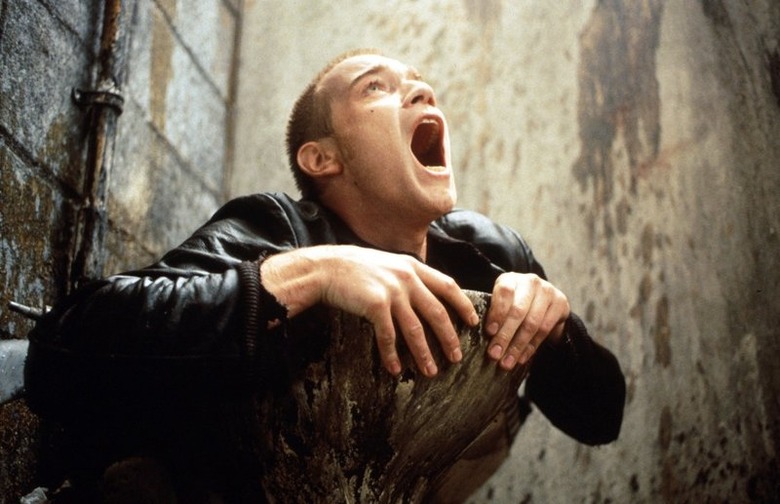 After the jump:
Lili Taylor and Barry Pepper join The Scorch Trials
J.K. Rowling writes a bunch more Harry Potter stories
Ewan McGregor says Trainspotting 2 will shoot in 2016
Keanu Reeves hasn't made a final decision on Bill & Ted 3
The cast of Magic Mike XXL gathers for a class photo
See Natasha Lyonne in a Beetlejuice 2 parody
Enjoy a bunch of new clips from Dumb and Dumber To
J.K. Rowling isn't writing any more Harry Potter novels, as far as we know, but she's no more eager to leave behind the wizarding world than her fans are. The author has posted six new Harry Potter universe stories on the Pottermore website, including character studies of Ministry of Magic villain Dolores Umbridge and Divination professor Sybil Trelawney. [Vulture]Danny Boyle will be busy shooting the Steve Jobs movie for a while, but according to Ewan McGregor he could be shooting Trainspotting 2 sometime after that. "It looks like it might happen. The idea is that we shoot it in 2016, which would be 20 years after the original came out," said the actor. "And I'd be up for it. I wouldn't have been 10 years ago, but I am now." For what it's worth, Boyle also said last year that the plan was to film in 2016. [Details via CinemaBlend]Keanu Reeves has been trying to make Bill & Ted 3 happen for years, but after all this time he still hasn't made his final decision on whether or not he'll actually do it. He's waiting for the project to move forward a bit more first. "Once it became real, I'd have to look at it," he said. "I think the idea of it I really like, and the writers have a really cool [and funny] idea for Bill and Ted in the sense of what it could be about." [THR]
It looks like the c**k-rocking Kings of Tampa are making quite a few friends on the road. Reality TV star Tully Smyth posted a "class photo" from the Magic Mike XXL shoot featuring Channing Tatum, Joe Manganiello, Matt Bomer, Donald Glover, Kevin Nash, and many more.
#MagicMikeXXL class photo. Just chilling with @MattBomer & @donaldglover. Thanks again for having me @RoadshowFilms! pic.twitter.com/F986W239YD

— Tully Smyth (@tee_smyth) October 27, 2014
[Twitter]
While we wait to see what comes of Seth Grahame-Smith's planned Beetlejuice sequel, Funny or Die is showing us the worst-case scenario. Or maybe it's actually the best-case scenario, since Natasha Lyonne is involved. ("Why Natasha Lyonne? Why not Natasha?")
Just can't wait to see Harry Dunne (Jeff Daniels) and Lloyd Christmas (Jim Carrey) reunited again? Here are a bunch of new clips from Dumb and Dumber To to tide you over until November 14.
[via AICN]