Tom Cruise's Latest Insane 'Mission: Impossible' Stunt: Strapped To A Plane At 5,000 Feet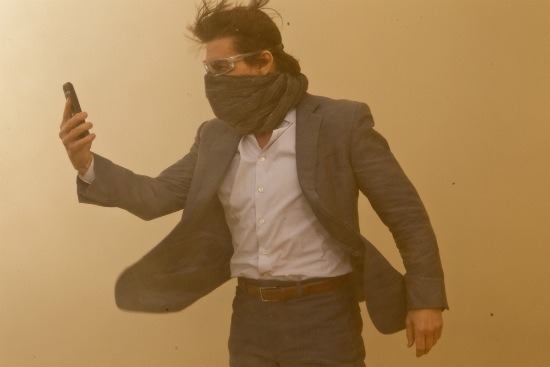 Tom Cruise likes to do his own stunts whenever possible, and for Mission: Impossible 5 he has gone to daredevil heights to entertain us. For the last Mission: Impossible film Cruise was suspended from the side of the Burj Khalifa, aka the tallest building in the world. And the footage, filmed with IMAX cameras, was very impressive. But one Mission: Impossible 5 stunt suggests that Cruise is ready to outdo that last going — for this sequel he was strapped to the outside of a military plane as it cruised over England at 5,000 feet.
The M:I 5 stunt was shot in September, but The Daily Mail just got photos of it over the weekend.
There are photos at Imgur, too.
That's an Airbus A400M, and Cruise is strapped to the door in a safety harness, and rode the plane as it cruised at 5,000 feet in an arc over the English countryside. We don't know much at all about the story of M:I 5, so we don't know why Cruise's Ethan Hunt ends up outside that plane, but knowing the general tone of the series it isn't difficult to guess at how it will look when we see the film.
In addition to Cruise, Simon Pegg, Ving Rhames and Jeremy Renner return to the series; new cast members include Rebecca Ferguson, Alec Baldwin, Sean Harris, Simon McBurney, and Zhang Jingchu. Christopher McQuarrie is directing from a script most recently drafted by Drew Pearce and Will Staples. Robert Elswit is acting as cinematographer for the sequel. 
Mission: Impossible 5 opens on December 25, 2015.