Watch Two 'A Most Violent Year' Trailers Starring Jessica Chastain And Oscar Isaac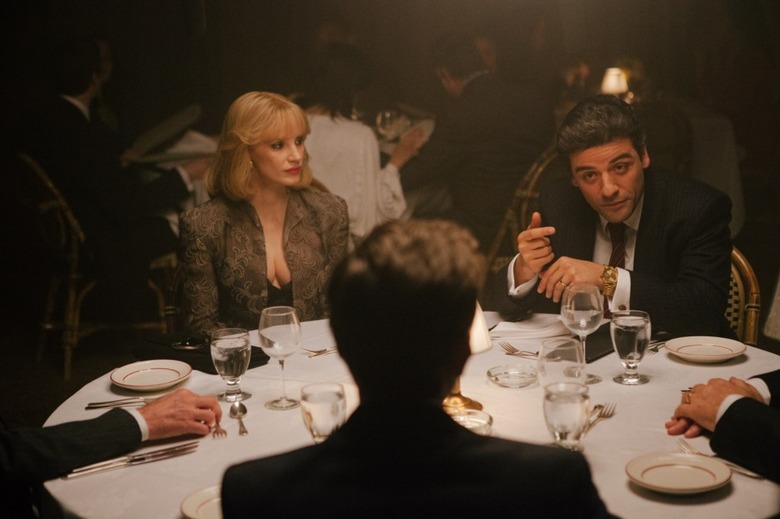 Jessica Chastain will be seen in Christopher Nolan's Interstellar in a few days, but that's actually just one of two big premieres she has this week. The other is J.C. Chandor's A Most Violent Year, which makes its worldwide debut at the AFI Fest in Los Angeles on Thursday.
This one puts her with Oscar Isaac as a married couple struggling to grab ahold of the American dream in 1980s New York City. He's an immigrant businessman, and she is his well-connected wife — who it seems may be even more of a schemer than he is. David Oyelowo, Albert Brooks, and Alessandro Nivola also star. Watch two new A Most Violent Year trailers after the jump.
Right off the bat, the talent involved with this project suggests we're in for a treat. Isaac and Chastain are two of the most consistently excellent actors working today, and Oyelowo is one of those always on the verge of breaking out. Meanwhile, Chandor is only getting bigger and bigger after the back-to-back successes of his first two films, Margin Call and All Is Lost.
And the A Most Violent Year trailers don't disappoint. It's not actually as graphically violent as the title might suggest, but it looks plenty brutal all the same. A Most Violent Year just barely makes the Oscar eligibility rules with an LA / NY release on December 31, 2014. Look for it to roll out to more theaters in January.
A MOST VIOLENT YEAR is a thriller set in New York City during the winter of 1981, statistically one of the most violent years in the city's history. The film follows the lives of an immigrant (Oscar Isaac) and his family trying to expand their business and capitalize on opportunities as the rampant violence, decay, and corruption of the day drag them in and threaten to destroy all they have built.