CBS' 'Supergirl' Casting Breakdown Reveals Plot Details And A New Character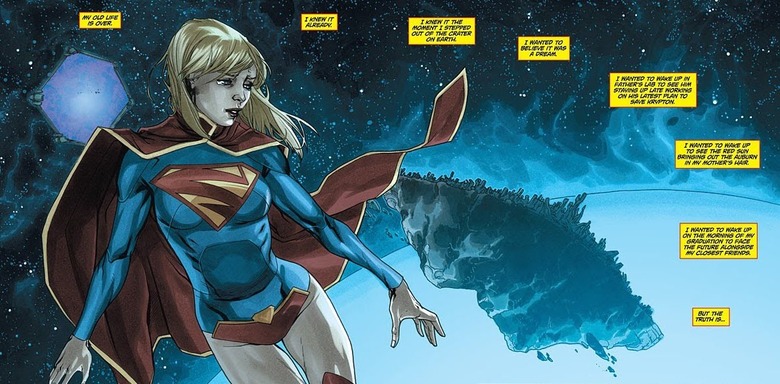 While we fantasize about who should play Marvel's Carol Danvers, Warner Bros. TV is trying to figure out who they want to play Kara Danvers (no relation). Yes, casting is now underway on the CBS' new DC Comics-based series Supergirl, and we have all the details on what producers are looking for.
Hit the jump for the Supergirl TV series character description and biography, plus details on a new character created just for the show.
As the series' mythology goes, Kara at age 12 was sent from her dying home planet of Krypton to Earth, where she was taken in by the Danvers, a foster family who taught her to be careful with her extraordinary powers. After repressing said skills for more than a decade, Kara is forced to bust out her super moves in public during an unexpected disaster. Energized by her heroism for the first time in her life, she begins embracing her abilities in the name of helping the people of her city, earning herself a super moniker along the way.
Supergirl is typically portrayed in the comics as a fit blond lady, so it should come as no surprise that the show is seeking a Caucasian female between the ages of 22 and 26 for the lead. The character is supposed to be 24 years old.
Also being sought is an actress to play Alexandra "Alex" Danvers, Kara's 26-year-old foster sister. Beautiful and brilliant, she nevertheless grew up both jealous of and fascinated by Kara. Curiosity about her sister's abilities led the science-minded Alex to study up on alien anthropology, sociology and culture, and now she works for a secret government organization.
Alex is a brand-new character not from the comics. It's tough to tell from that description whether she'll ultimately be friend, foe, or both, but we look forward to finding out. Meanwhile, the latest report makes no mention of Kara's actual relative from the comics, Kal-El a.k.a. Superman.
Supergirl is being cast by the same folks who previously cast Arrow and The Flash, so adjust your expectations up or down as you see fit. The new show is being written and executive produced by Greg Berlanti (also of Arrow and The Flash) and Ali Adler (No Ordinary Family).
Who would you cast as Supergirl?