'Clerks III' Will Be Partially In Black And White; Jay And Silent Bob Will Return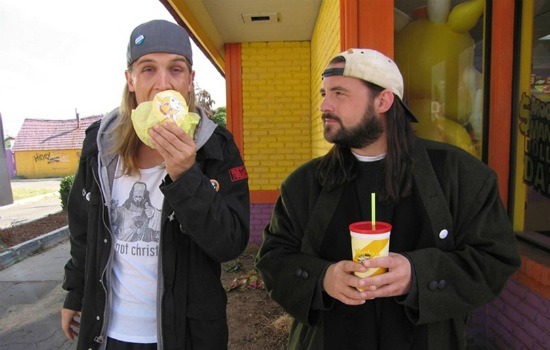 On the latest episode of Smodcast, writer/director Kevin Smith offered up a significant Clerks III update. One bit of news was that Smith's podcast guest, Jeff Anderson, will return to play Randal in the film. The pair also discussed the entire trilogy. Anderson talked about his thoughts upon reading the script, Smith discussed the eventual tone of the film, and he revealed the first ten minutes will be shot in black and white. He also confirmed Jay and Silent Bob will appear much like they did in the first two films.
Below, read more about Jay and Silent Bob and the Clerks 3 script.
All the Clerks 3 script news came from Smodcast #312, Randal Reflects, which you can listen to below. Thanks to Movie Pilot for transcribing the quotes.
First up, here's what Anderson said about the Clerks III script:
I like the script. It's being introduced to these characters that are friends. Friends of mine. Friends of ours. Whether or not I was going to do the movie, I wanted to read the script. Just for closure for myself! F*** the fans, I just wanna know! Yeah, it's a very different movie and that's what I like about it. Clerks II was a very different movie from 1, but it wasn't THAT different.Clerks III . . . still not THAT different, but different in a different way. Different, different, different, different. Clerks to me was a gritty movie. Clerks II became this brighter movie. Clerks III to me feels somewhere between 1 and 2. It feels a little gritty and we go back to the beginning stages, but we do see the progression.
Smith added some of his own thoughts on that idea of the film feeling different:
I like where [the story] f***ing goes so much. It's my favorite soap opera now. It's kinda like The Empire Strikes Back of the Clerks movies. It doesn't tell the middle story, but it has that kinda feeling.
As for logistics, Smith said the first ten minutes will be in black and white, which will make sense in the movie. He doesn't elaborate on how, but remember that Clerks II turned to black and white at the end when Randal and Dante were once again happy. You'd imagine they're happy again at the beginning of this film, then something bad happens and – BOOM – back to color.
Then, of course, Smith said he and Jay Mewes will reprise their roles as Jay and Silent Bob. "They're in the movie as much as they were in Clerks and Clerks II," he said.
Smith says he's hoping to shoot the film in June, after he completes production on Krampus. We're not sure when Moose Jaws, the final part of the True North trilogy, will shoot. Probably after Clerks III.