First Look: 'Absolutely Anything' Starring Simon Pegg And Most Of Monty Python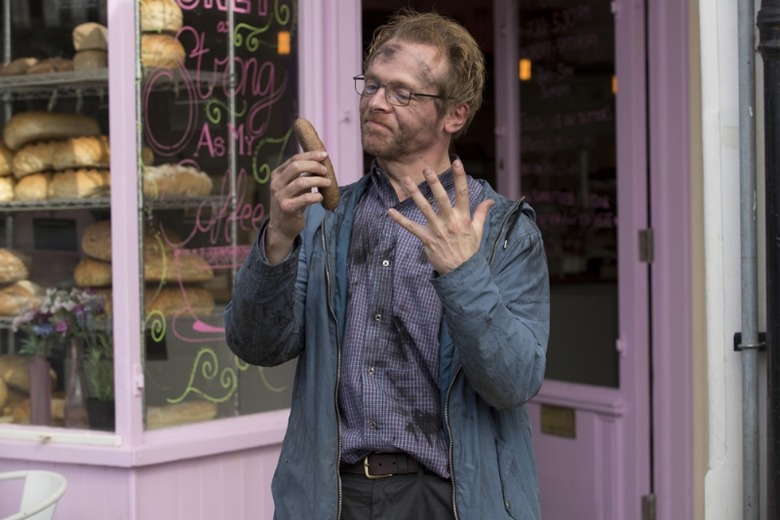 Simon Pegg has been through some very weird stuff on the big screen, including a zombie apocalypse and an attempted alien takeover. But his new movie Absolutely Anything gets even crazier, granting him the power to make "absolutely anything" happen.
Directed by Terry Jones, the sci-fi comedy stars Pegg as a schoolteacher named Neil Clarke who gains magic powers after a brush with aliens. The film reunites Jones with his Monty Python mates John Cleese, Terry Gilliam, and Michael Palin, while Robin Williams joins in as the voice of a dog. See the first Absolutely Anything images after the jump.
Jones explained to the publication:
It's about a man called Neil, a teacher in a sink secondary school, who gets given magic powers by aliens. He can make anything happen, [but] he doesn't realise it until his colleague says, 'What would you do if you could do anything?' and Neil responds with, 'I'd make an alien spaceship hit class 4C and vaporise them.' Then there's an explosion in the school, and they run to 4C's classroom, open the door and there's a vast hole in the ground.
The Absolutely Anything images don't reveal that much, but they promise a colorful journey for our hero. Jones and his Monty Python buddies voice some of the aliens, who will be rendered in CG, while Williams voices Neil's dog Dennis. (Yes, that means the pup at the dinner table is one of Williams' last-ever roles.)
Kate Beckinsale plays Catherine, Neil's love interest. Neil's newfound powers send him on a Douglas Adams-esque plot, and ultimately he's forced to make a choice between his dog and his lady. Tough call, that.Absolutely Anything opens February 13, 2015 in the U.K. and probably sometime in 2015 in the U.S. Rob Riggle and Eddie Izzard also star.