'Babylon' TV Trailer: Danny Boyle Makes A Cop Show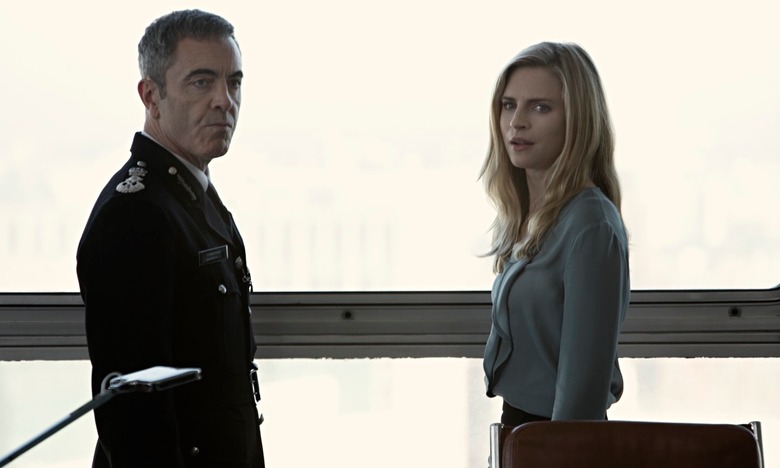 Before Danny Boyle jumps into Jobs, he's taking a detour into television with Babylon. The British dramedy centers around the London police department, which is suffering from some serous public image issues. So Chief Constable Richard Miller (James Nesbitt) brings in some outside help in the form of Liz Garvey (Brit Marling), an American PR expert. She quickly discovers she has her work cut out for her, between a disgruntled, distrustful police force and a scandal-hungry media.
Babylon was written by Peep Show creators Sam Bain and Jesse Armstrong, and also stars Jill Halfpenny, Paterson Joseph, Bertie Carvel, and Adam Deacon. Watch the first Babylon trailer after the jump.
My first reaction to the Babylon trailer was "how is this not out yet?" Boyle began working on Babylon last year, and the first episode hit the U.K. in February. But that was just the first episode. The rest of them didn't shoot until later this year. The six-part series will premiere for real on the U.K.'s Channel 4 on November 13.
There's no word yet on when it'll hit the U.S., which is too bad because the Babylon looks very solid. The PR angle looks like a fresh spin on the stalwart cop drama genre, and the trailer strikes an appealing balance between juicy drama and biting humor. And for what it's worth, the pilot episode got pretty good reviews when it aired earlier this year — though there was at least one critic who felt Boyle's involvement was to its detriment.
London's police force is in need of a public image revamp. And Chief Constable Richard Miller, played by James Nesbitt, has found just the woman to do it...
American visionary from the world of new media Liz Garvey, played by Brit Marling, sets out to revolutionise the force's PR department just as an outbreak of violence erupts.