'Avengers: Infinity War' Part 1 And 2 Announcement Trailer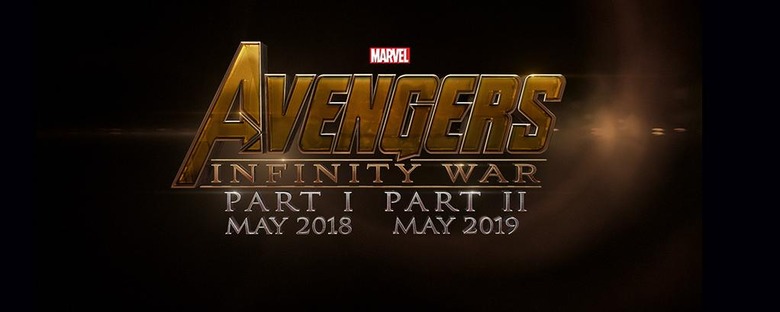 Phase Three will culminate on May 2018 and 2019 with an epic two part Avengers film. Avengers Infinity War will be released on May 4 2018 and May 3 2019. Wow. And yes, that means we finally get Thanos. We've got an image below.
At the event, Marvel put this image on the big screen for this huge two part film. So I guess Thanos finally gets all those gems.
Avengers: Infinity War Part 1 and 2 Announcement Trailer
A fan captured footage of the entire Avengers: Infinity War teaser trailer shown at the event, watch that below:
Here's the full Marvel press release:
The Avengers have already triumphed over Loki, and next summer they'll face Ultron...but nothing could prepare them for the menace of Thanos.
How big of a threat does Thanos pose, you ask? Big enough to span two epic films, beginning with Marvel's "Avengers: Infinity War Part 1" on May 4, 2018, and concluding in Marvel's "Avengers: Infinity War Part 2" on May 3, 2019 for one massive cinematic event.
"We've always had a plan since Nick Fury broke into Tony Stark's house and told him he's part of a bigger universe," recalled Feige. "'Avengers: Infinity War Part 1' is the beginning of the culmination of everything that has come before."
Hold onto your hats, True Believers, because Phase 3 of the Cinematic Universe is going to be one wild ride! Stay tuned to Marvel.com for the latest on the Avengers and the rest of the Marvel Cinematic Universe as it develops!