Star Wars Bits: New Episode VII Villain Revealed? Plus Darth Vader On 'Rebels,' Rumors And Benedict Cumberbatch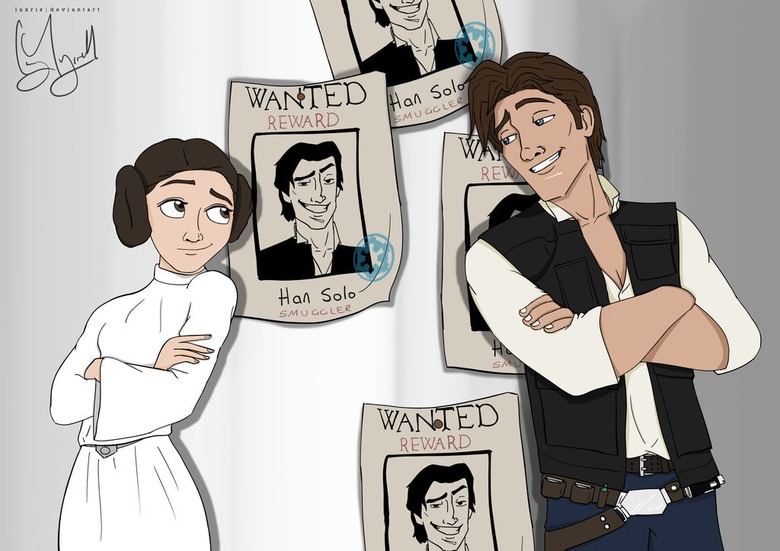 Dive deep into Star Wars Rebels, see a potentially massive Episode VII spoiler and more in this edition of Star Wars Bits. Below, read about the following:
A possible new photo of a villain in Star Wars Episode VII has been revealed.
Watch Darth Vader's cameo on Star Wars Rebels.
Dave Filoni talks Monday's Star Wars Rebels twist.
New rumors about voice actors and the possible direction of Star Wars Rebels have surfaced.
Benedict Cumberbatch talks about visiting the set of Star Wars Episode VII, and does a Jar Jar impression.
Two upcoming Star Wars novels get new release dates.
Listen to an audio excerpt from Star Wars: Tarkin.
Header image: Han Solo and Princess Leia in a Disney style by Luxris via Tumblr.
If you're a Star Wars Episode VII spoiler hound like me, by now you've probably already seen photos of a character that may or may not be the Star Wars Episode VII villain. Well, a new photo has now been discovered via Star Wars Underground of a wholly new character. Is it real? Is it fake? We don't know, but it's very cool. Check it out at the link.
This past weekend, the Star Wars Rebels mini-movie aired on ABC and contained an added scene with Darth Vader. It was at the very beginning of the episode and, in my opinion, a much stronger and tantalizing open to the series. Check it out – in admittedly terrible bootleg quality – below.
Monday's episode of Star Wars Rebels, Rise of the Old Masters, was one of the best yet. We won't spoil anything but it combined all of the great stuff we like about Star Wars, and some cool nods to the previous six films. One in particular was a bit of a shock and, in an interview with IGN, executive producer Dave Filoni explains how that all worked. And yes, I'm referring to the bait.
Where is Star Wars Rebels going in the future? We don't know for sure, but MakingStarWars has some interesting rumors about it. The first rumor is two voice actors who were prominent in The Clone Wars – Sam Witwer and Andrew Kishino – are involved in the project. Witwer was best known as Darth Maul while Kishino was Rebel Saw Gerrera. They may or may not be playing those characters, but it at least opens the door.
The site also reports on some interesting rumors regarding what the crew of The Ghost will have to deal with going ahead, including rumors about Ezra's parents and more. Interesting, but potentially spoiler-filled, stuff if true. Head to the above link.
Benedict Cumberbatch is not in Star Wars Episode VII, but he did visit the set. Below, watch him talk about that – and do a Jar Jar impression – on The Graham Norton Show. It's in the first 2 minutes.
Two new Star Wars novels, Star Wars: Heir to the Jedi by Kevin Hearne and Star Wars: Lords of the Sith by Paul Kemp, have been pushed back. Originally scheduled to be released in January and March, they'll now be released in March and April respectively. Head to the Del Ray Facebook for more information.
And while we're on the topic of Star Wars novels, the official site has an audio excerpt from Star Wars: Tarkin by James Luceno. Head to this link to listen.
More Star Wars Bits, there will be.