Photo: Beardless Kevin Smith To Appear In 'Yoga Hosers'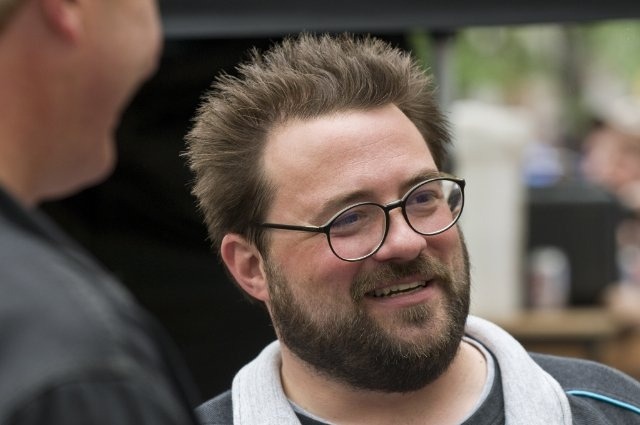 Have you ever wondered what Kevin Smith might look like without a beard? The filmmaker and occasional actor (Silent Bob...etc) has shaved off the beard for an appearance in his latest film Yoga Hosers, and the photo might shock you! Someone showed me the image on their cellphone and I couldn't believe it was him — but its for real. See the photo of a beardless Kevin Smith shooting Yoga Hosers after the jump.
Smith tweeted the following photo with the caption: "Look at this goofy spaz. This is me, beardless, for the @YogaHosers green screen shoot."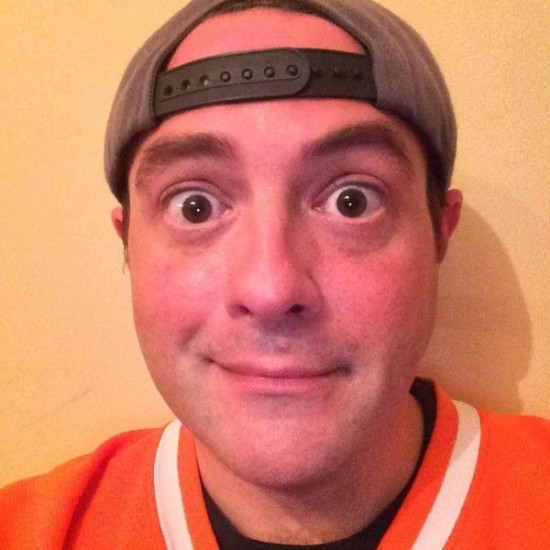 This actually isn't the first time we've seen a beardless Kevin Smith — in 2012 an image of the filmmaker at 17-years old playing Kenickie in a high school production of Grease was posted online: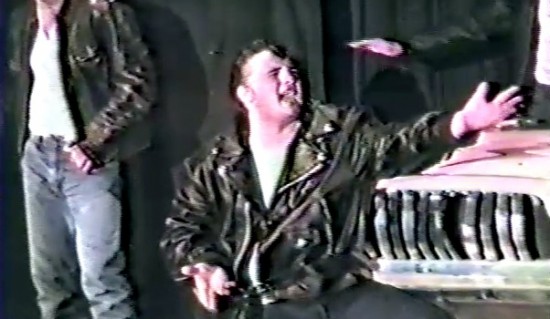 No word on what role Kevin Smith plays in Yoga Hosers, but some had speculated that with Jason Mewes also appearing that Jay and Silent Bob might film a cameo. But the beardless photo of Smith destroys that theory. Smith did mention that the face shave was for a green screen shoot, so it likely involves the monster or heavy effects.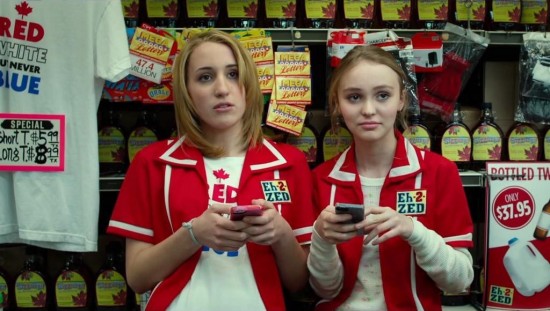 Yoga Hosers is the second film in Kevin Smith's True North Trilogy, and a spinoff of Smith's 2014 horror film Tusk. The action-adventure movie stars Johnny Depp alongside his daughter Lily-Rose Depp and Smith's daughter Harley Quinn Smith reprising the Tusk roles as teenage Manitoba convenience store clerks Colleen Collette and Colleen McKenzie. The film tells the story of the 15-year-old yoga nuts who must join forces with a legendary man-hunter from Montreal named Guy Lapointe (Depp) after "an ancient evil rises from beneath Canada's crust and threatens their big invitation to a Grade 12 party." The film also features Tony Hale, Natasha Lyonne, Austin Butler, Adam Brody, Tyler Posey and Jason Mewes. 75% of the filming was completed in August and September and the rest of the filming was on hold for Depp's availability.
The third and final film in his True North Trilogy will supposedly be entitled Moose Jaws, the pitch of which is "Jaws with a moose", which is gearing up to shoot in 2015 (along with Clerks III if Smith has his way).