Cool Stuff: 'Family Guy' Star Wars Posters Done In The Style Of Tyler Stout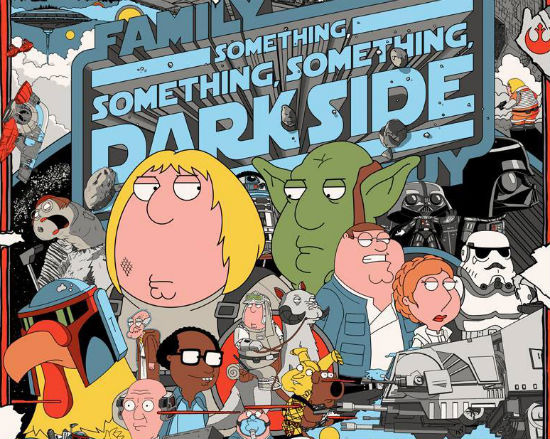 Tyler Stout's Star Wars Trilogy is one of the most highly collectible poster sets on the market. Each of the three posters in the set is classic Stout, combining almost every single character, setting and piece of iconic imagery from the film in one single image.
Artist Jacob Bills is obviously a fan, but he's also a fan of Family Guy. Over the past few years, Family Guy parodied Star Wars with their specials Blue Harvest, Something Something Something Dark Side and It's a Trap. Bills put all those pieces together and parodied the Tyler Stout posters by filling them in with images from the Family Guy episodes. The result has to be seen to be believed. Check out the Family Guy Star Wars posters below.
Here are the Family Guy Star Wars posters by Jacob Bills.
And here are the original Tyler Stout posters.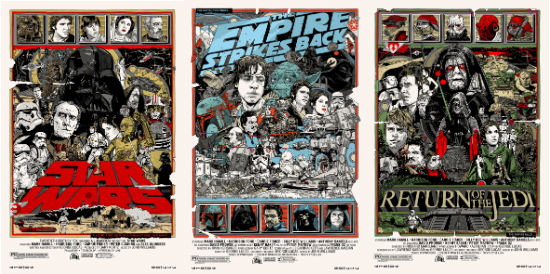 Pretty fantastic likeness, right?
So how can you get these bad boys? It's not going to be easy. They were part of a private commission so only a few were made. But 4 printer proof sets are being sold for charity by Lastleaf Printing, the first of which is on eBay now. Whatever that set sells for will help set the price for the remaining sets with all the proceeds going to help a young girl with leukemia. The link is here. Get more info here.
And Bills took to Facebook to talk a bit about the posters:
First off, let me thank everyone for all the kind words about the Family Guy posters I've been working on for the past few years. And you read that right, years... looking back at the first file it was finished in July 2012. Though it took me so long to finish these, seeing everyone enjoying them really makes all the time and effort I poured into them worthwhile.
So, again, let me say "Thank You" for all the kind words. I hope everyone enjoys these and I hope the next thing I do will be equally as impressive. Thinking to myself "Crap... what do I do next?!?"