'Judge Dredd: Superfiend' Trailer Is Strange And Darkly Funny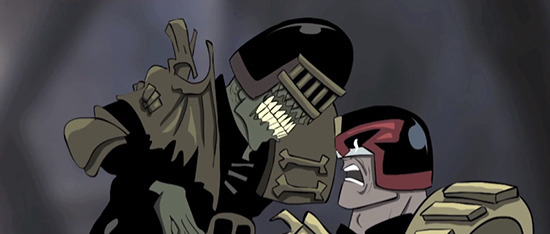 Based on this Judge Dredd: Superfiend trailer, I'm totally in for this "unofficial" Judge Dredd animated web series. Dredd and The Grey producer Adi Shankar backed this web series as a "thank you" to fans who've supported the film Dredd. I hope those fans can look beyond their desires for a hardcore movie sequel to see that this series might have many of the aspects of the Judge Dredd comics that didn't make their way into the last film.
In short, Superfiend looks weird and darkly funny. The satire of old 2000AD comics didn't really squeeze into Dredd, and that film was also missing some of the really bizarre ideas lodged in Mega-City One. This seems to restore some of that spirit. And thanks to animation it can do some things that would play very differently in live-action. Check out the first "sentence" passed by Judge Death to get the idea.
Collider got this trailer, and a two-part statement from Shankar, which you can find below. There's also a list of the titles for the six episodes
Here's Shankar explaining in part how this fits in with the "bootleg" shorts he previously produced featuring The Punisher and Venom, and the overall idea behind this series:
1. The "Bootleg Universe" is about viewing things through a fresh lens.  I wanted to do something that played up the satirical tone of the Judge Dredd comics, an anti-establishment British comic about post apocalyptic America.   Furthermore, I'm not going to bootleg my own thing and do it in live action ... I'll save that for Dirty Laundry 2.
2. I personally love cartoons, so I wanted to mimic the look of 90's MTV, "Ren & Stimpy," Liquid Television, with a dash of "ReBoot" and juxtapose that with the trademark violence found in everything I have done.  When I was younger all of your favorite comic book sci-fi anti-hero characters had an animated series, X-Men: The Animated Series, Ultraforce, WildC.A.T.s, Savage Dragon, and even Youngblood got close ... so in that tradition this is Judge Dredd's foray into ultraviolent kids animation!"
Episode 1: Judge Sydney
Episode 2: The Angel Gang
Episode 3: Judge Death
Episode 4: Rico & Vienna
Episode 5: In Death We Trust
Episode 6: Dredd vs Death