Fox Developing Archie Comics TV Series 'Riverdale'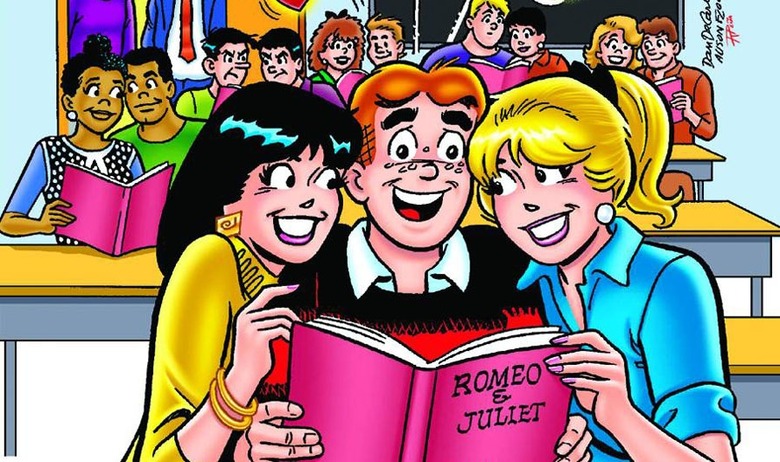 Following the successes of Arrow, The Flash, Gotham, and Agents of S.H.I.E.L.D., yet another comic book series is being turned into a TV show. Only this one's not based on Marvel, DC, or indeed any superhero franchise at all.
Fox is developing Riverdale, a new drama based on characters from the Archie comics. Greg Berlanti (of Arrow, The Flash, and the upcoming Supergirl) is producing and Roberto Aguirre-Sacasa (the chief creative officer of Archie Comics) is writing. More on the Archie Comics TV series after the jump.
Deadline further describes Riverdale as "a bold, subversive take on Archie, Betty, Veronica and their friends, exploring the surreality of small-town life — the darkness and weirdness bubbling beneath Riverdale's wholesome façade."
That description makes Archie sound like a Blue Velvet-style expose of American suburbia. But recent Archie storylines, including ones written by Aguirre-Sacasa, have seen the gang battling zombies and whatnot. So maybe the "darkness and weirdness" refers to supernatural forces, a la Buffy the Vampire Slayer.
Or maybe we're reading too much into that description and it's just gonna be Dawson's Creek with more familiar character names. After all, Berlanti did begin his career as a writer on that series. His more recent hits include Arrow and The Flash, both on The CW, and NBC's freshman drama Mysteries of Laura.
Aguirre-Sacasa is a longtime Archie fan, to the extent that in 2003 he even wrote an unlicensed play reimagining Archie characters as grown-ups. He's written for Glee, Looking, and Big Love on the small screen, and he penned remakes of Carrie and The Town That Dreaded Sundown for the big screen.
Archie made his debut in 1941 and has remained popular over the decades. The comics have inspired several animated series including, most recently, Sabrina: Secrets of a Teenage Witch on the Hub Network. However, Riverdale will be the first live-action Archie Comics-based show since ABC's Sabrina, the Teenage Witch ended in 2003.