Ethan Hawke Starring In Chet Baker Biopic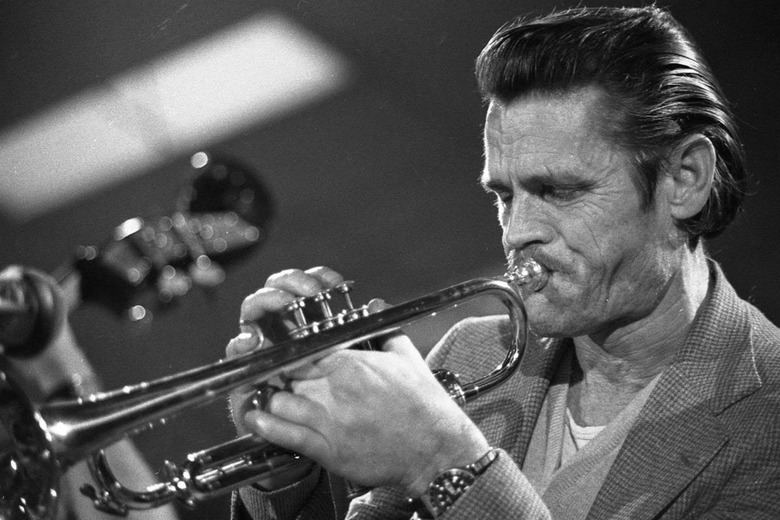 Surprise! There's a biopic of singer and jazz trumpeter Chet Baker shooting in Canada right now, and it stars Ethan Hawke. The film is called Born to Be Blue, and is written and directed by Canadian filmmaker Robert Budreau, who has already created a short about the player, called The Deaths of Chet Baker with Stephen McHattie in the leading role. But what about this new feature? We've got the Chet Baker biopic info — as much as there is to be had — below. Deadline reports that, as you might expect from a biopic, that Born to Be Blue is "inspired by Baker's rise, fall and eventual resurgence." The report goes on to say,
The story will chart his comeback in the late 1970s and the tumultuous love affair that changed the way he played music and helped him on the road to redemption after his self-destructive ways had seemingly destroyed his career.
The film also features Carmen Ejogo (The Purge: Anarchy) and reliably solid Canadian player Callum Keith Rennie (Battlestar Galactica), and reportedly Hawke has been a big part of the film's development.
In the '50s, despite playing trumpet with luminaries such as Charlie Parker, Stan Getz and Gerry Mulligan, Baker's first wave of mainstream fame came more for his performances and recordings as a singer. ('Chet Baker Sings' is perhaps the iconic LP from that time.) But Baker got into heroin and a late-'60s beating left him without front teeth, making trumpet playing impossible. Dentures allowed him to return to his primary instrument, and in the late '70s he returned with a long run of LPs, and he continued to record and tour at a fairly prolific rate until his death in 1988.
Here's the LP that accompanied Let's Get Lost, a defining documentary on Baker, by Bruce Weber.