Charlie Kaufman And Steve Carell Team For 'IQ 83'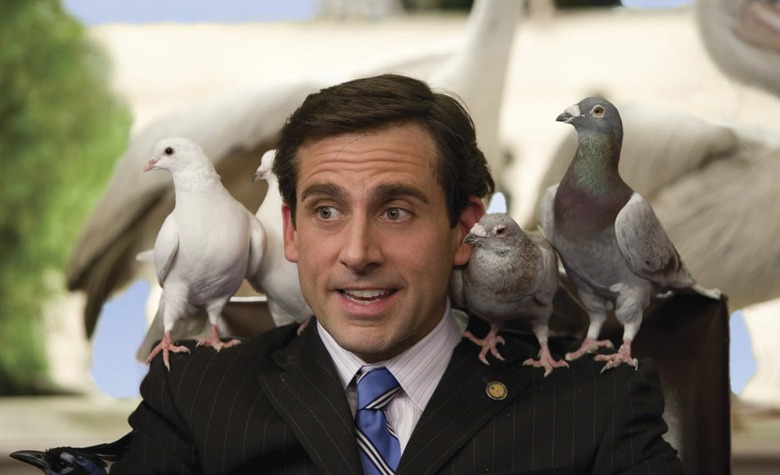 We may receive a commission on purchases made from links.
It's been a while since we had a new Charlie Kaufman project to ooh and ahh over, though that hasn't been for lack of effort on his part. He shot an FX pilot called How and Why that got turned down, and his planned directorial effort Frank or Francis fell apart at the last minute. But now, happily, he's moved on to a new film.
Kaufman is set to do a page one rewrite of IQ 83, an adaptation of Arthur Herzog's 1978 sci-fi novel. Steve Carell, who was supposed to star in Frank or Francis, is set to lead. In typical Kaufman style, it all sounds rather bizarre. Hit the jump for more on the Charlie Kaufman Steve Carell team-up.
Deadline describes IQ 83 as a scathing satire in the vein of Dr. Strangelove, though Herzog's original book played it straight.Carell will play Dr. James Healey, one of a team of scientists who have accidentally unleashed a virus that lowers victims' IQs. Society devolves into chaos as the disease spreads, and Healey desperately searches for a cure even as he himself gets dumber.IQ 83 is brewing Paramount with Andrew Lazar and Walter Parkes producing. Lazar has been on this one for some 20 years already. He originally had the project set up at DreamWorks but no one was ever quite able to crack the screenplay. Herzog's other works include The Swarm and Orca, both of which have also been adapted for film.
As of now, there's no director because the producers and studio are waiting to see what Kaufman turns in first. The premise sounds a bit like Idiocracy meets Contagion, but Kaufman will no doubt find a way to make the story his own. Kaufman's last film was the delightfully odd Synecdoche, New York, and Carell is coming off of career-best reviews for his turn in Foxcatcher.
Here's the book synopsis from Amazon:
YOU ARE DR. JAMES HEALEY AND LAST WEEK YOU WERE A GENIUS That was before the DNA experiments. Before the accident you said could never happen... Since then you have felt your mind decaying a little more each day. You have watched your wife slip into imbecility. You have seen the crowds growing murderous with animal terror, the President of the United States babbling and drooling on TV... Only one thing separates you from them. You, at least, know what is happening as you search for the cure for the horror you have unleashed upon the world—as each day the dimming of your mind lowers your chance of finding it!