'Goodfellas' Actor Suing 'The Simpsons' For $250 Million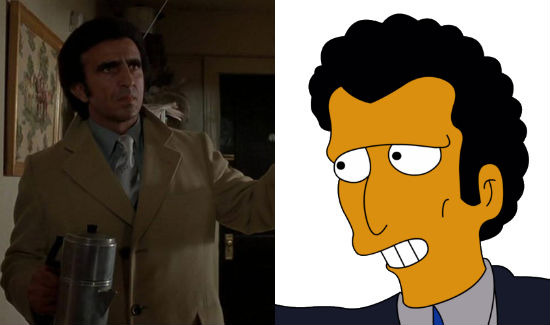 You may not know the name Frank Sivero but, if you've seen a mob movie, you know his face. He played Frankie Carbone in Martin Scorsese's Goodfellas, the afro-sporting mobster who buys his wife a mink coat and ends up on a meat hook. He's also an extra in The Godfather and had a bigger role in The Godfather Part II. In recent years, fantasy became reality as he was arrested for gun possession.
Now, the actor is attempting a new way to make money. A massive, massive lawsuit against The Simpsons. Sivero says the Simpsons character Louie, one of the henchman of mobster Fat Tony, is based on his likeness from Goodfellas and he wants $250 million in compensation. Read more about the Goodfellas Simpsons lawsuit below.
Deadline broke the news of the lawsuit, which you can read in depth here. It basically claims that Simpsons producer James L. Brooks  was" highly aware of who Sivero was, the fact that he created the role of Frankie Carbone, and that The Simpsons character Louie would be based on this character." Yet, Sivero was never compensated.
Obviously, Louie is a mobster – like the Carbone character – and has an afro – like the Carbone character. But the character has only appeared (and this blew me away) in 16 episodes since being introduced in 1991. That's just crazy.
Odds are nothing will come of this lawsuit, but it's crazy none the less. I'm sure 20th Century Fox, who owns The Simpsons, aren't laughing but the thought this actor is owed this much money for maybe or maybe not being the inspiration for a tiny supporting character is nuts.
There are a ton of other interesting twists and turns to this story too. Apparently, Sivero lived next door to The Simpsons creators as he was working on Goodfellas and they were creating the show. He also claims James L. Brooks promised they'd worth together at some point. Not to mention, this is not the first time Sivero has sued over his Goodfellas character. He sued a California deli for using his image and naming a sandwich after the character. At least in that case, they were using his photo.
You can read much more about the lawsuit at the above links. Next up, the actor who played Dennis the Menace suing over Bart Simpson, Bozo the Clown's estate suing over Krusty, and John Travolta suing over Disco Stu.