'Bad Santa 2' Still Developing, Says Billy Bob Thornton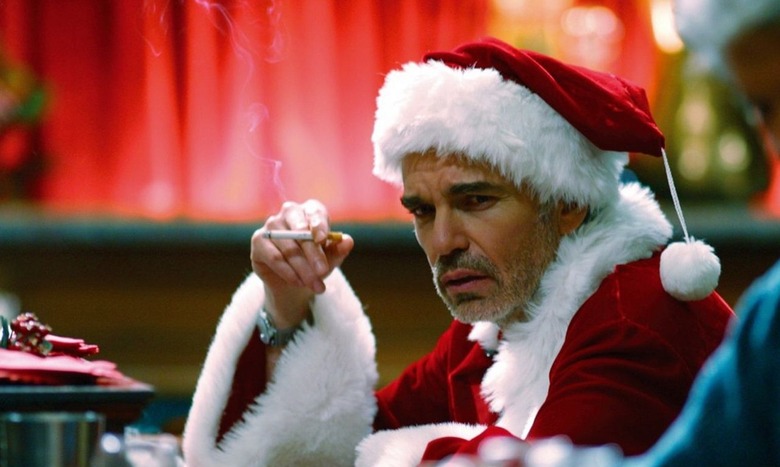 Bad Santa 2 has been discussed for years, despite the fact that original writers Glenn Ficarra and John Requa have moved on to their own directing career and there's no indication that original director Terry Zwigoff will return. Rather, Hot Tub Time Machine director Steve Pink was linked to the film, both as writer and director, then Doug Ellin (Entourage) was said to be a potential writer/director. Now star Billy Bob Thornton says the project is still developing.Thornton took part in a "Hollywood Masters" discussion at Loyola Marymount University's School of Film & Television. (Ironically titled, given that Thornton is probably much more on an "independent master" than a Hollywood one.) The actor said that, yes, plans for Bad Santa 2 are still kicking. His take on it is refreshingly free of bullshit:
We're just waiting for a script, ya know? We're never gonna beat the first one but you got to get as close as you can. You just can't go and do it haflway so we're waiting for something that's close enough. It'll do real well I imagine and people will say, 'Well, it wasn't as good as the first one' and we'll say 'Yeah, we knew it wouldn't be' but I think it should be fun and I think people who liked [the first one] will enjoy it and hopefully we'll get it off.
The irony of "waiting for a script" on this one is that once upon a time two writers, Johnny Rosenthal and John Phillips, were tasked with creating parallel scripts. But a couple years ago Steve Pink was in talks to direct and script the sequel, rewriting the work done by Rosenthal. Last year, Doug Ellin was signed to rewrite and potentially direct, and Thornton said the film could shoot in 2014.
In other words: we don't know many specifics, but it continues to be something people talk about. [Today's quote via THR, which also has video of the talk.]