James Wan To Direct 'The Conjuring 2'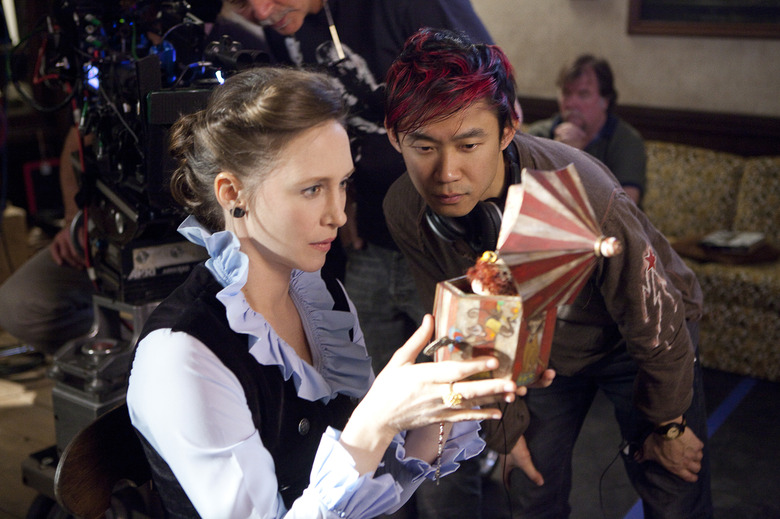 Last night the news broke that New Line had pushed The Conjuring 2 out of 2015 and into an un-dated 2016 release window. We wondered if that had anything to do with the success of Annabelle, and if New Line might be thinking of making more spin-off movies based on the Warren case files, instead of doing a proper sequel. Turns out we were totally wrong — the delay is so that New Line could accommodate the Conjuring 2 director: a returning James Wan. 
You might forgive us not prioritizing the idea that Wan would return for The Conjuring 2. This is the guy who, while doing press for the second Insidious, said "I'm going to go on record and say I am finished with the horror genre. "Conjuring" and "Insidious 2" are my two last scary movies."
Now Deadline reports that Wan will direct The Conjuring 2 for a 2016 release, with the film shooting next summer. (That gives him time to finish Fast & Furious 7.) He will also "develop and produce modest budget films in the science fiction, horror, and comedy genres" with his production outfit Atomic Monster and New Line.
While Universal has the option to bring Wan back in for more Fast & Furious movies, Deadline reports that no decision have been made on that front, and Uni is OK with Wan making this New Line deal. Which is interesting; did he not like the process of making Universal's action movie? (It can't have been a good one, given the death of co-star Paul Walker.) Or was he just not a good fit for the gig?
Actually, it may be that New Line and Warner Bros. want Wan badly enough that they're willing to do anything to lure him over. New Line's Toby Emmerich tells Deadline,
New Line has always been a big believer in great filmmakers emerging from the horror genre, and he has the potential to grow like Frank Darabont did, from writing A Nightmare On Elm Street 3 to writing and directing The Shawshank Redemption. James will make an important movie for New Line and Warner Bros or DC, and that is definitely part of the plan, and a reason for bringing him into the family. He's the only overall director with a deal here, because we see him as a class of one.
Wan and the producers of Saw have also hinted that there could be a new Saw film, potentially with Wan and Leigh Whannell returning to the fold. If the director isn't done with horror after all, maybe there's more chance of that happening.