Early Buzz: First Audiences Love Christopher Nolan's 'Interstellar' [UPDATED]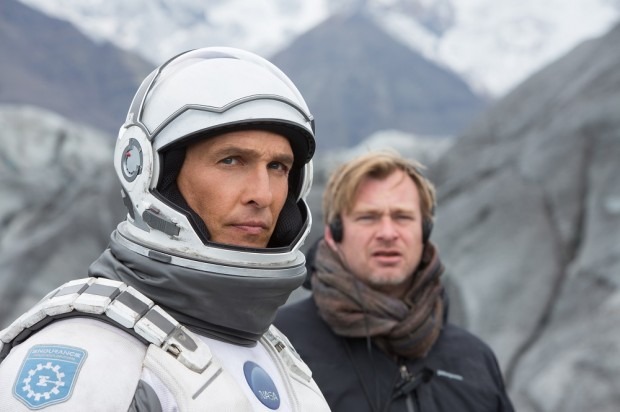 Two weeks from Tuesday, theaters with film projectors start screening Christopher Nolan's Interstellar. That means a few things. One, you better get your tickets. And two, it's time to begin managing expectations and avoiding spoilers. Over the past few days, the film has begun screening for general audiences, celebrity audiences and press alike. Attendees are usually embargoed from going on social media about early screenings but that very rarely stops people. And if the reactions are positive, studios usually don't care.
As expected some of those early Interstellar reaction tweets are positive. Very positive. Plus, they suggest while Nolan continues to compare his film to 2001: A Space Odyssey, he's made something that has wider appeal than Kubrick's polarizing masterpiece. Below, read about some early Twitter buzz about Interstellar.
UPDATE: We've added the reactions of some of Hollywood's most well respected filmmakers and fans such as Rian Johnson, Patton Oswalt and more.
First up, here are some random Interstellar reaction tweets:
. @Interstellar is pretty awesome and fun. Especially on IMAX.

— Ev (@ev) October 21, 2014
#Interstellar – a fantastically powerful movie. Well worth seeing. pic.twitter.com/13rgVWCZuG

— Juliet de Baubigny (@JulietdeB1) October 21, 2014
Chris Nolan did it Again!!! INTERSTELLAR GREATEST MOVIE OF ALL TIME

— Taco (@TripleCthaMost) October 18, 2014
Seeing #mathewmcconaughey and #Interstellar made today so incredible! What an awesome man in a fantastic movie. See it November 7th!!!

— Kelli 🫧 (@kellipallooza) October 18, 2014
But we don't know those people. How about a reaction from some people we do know?
Am I allowed to say that 'Interstellar' is incredible yet?

— edgarwright (@edgarwright) October 13, 2014
Dazzled by the ambition & intelligence of Chris Nolan's INTERSTELLAR. Terrific performances, haunting imagery, WOW. See it in 70MM IMAX.

— Brad Bird (@BradBirdA113) October 21, 2014
And an UPDATE. Here are some more reactions out of a recent LA screening:
#Interstellar is truly incredible. A thought provoking, challenging gut punch of a film. Wow.

— Josh Gad (@joshgad) October 23, 2014
Saw 'Interstellar' for a second time projected on IMAX film. Truly an magnificent film. Emotional, visually stunning. See it large and loud.

— edgarwright (@edgarwright) October 23, 2014
I saw INTERSTELLAR last night & I'm just now taking it all in. Holy moley. Amazing.

— Patton Oswalt (@pattonoswalt) October 23, 2014
That's cool, right? Here's another pieces of evidence. According to Page Six, the head of Paramount Brad Grey held a private screening of Interstellar Sunday evening in New York City. Among the attendee were directors Ang Lee and Steve McQueen, actors Jake Gyllenhaal, Chris Rock, Kevin Bacon and Kyra Sedgwick and the awesome Dr. Neil deGrasse Tyson. It doesn't look like any of them have tweeted about it yet, but just screening the movie like that at all is a pretty big stamp of approval. They don't do that for everything.
Interstellar is opening in multiple formats. There's 70mm IMAX, 70mm film, 35mm film, IMAX, 4k digital and regular digital. As previous mentioned, the 70mm IMAX screenings, 70mm and 35mm film screenings will all open November 5, which really means 8 p.m. November 4. Everywhere else opens November 7.