Sequel Bits: 'The Hobbit', 'Mockingjay', '23 Jump Street', 'Magic Mike XXL', 'Step Brothers 2'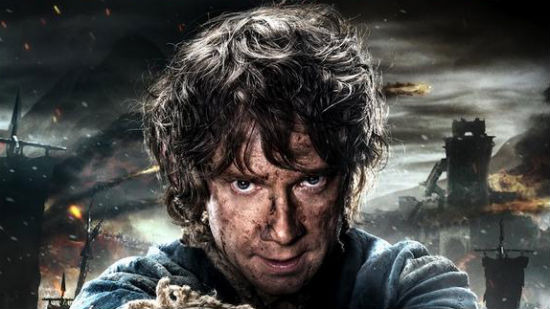 So many sequels, so little time. So let's get to it. After the jump:
Channing Tatum isn't so sure about 23 Jump Street
Magic Mike XXL could be in 3D (but probably won't be)
Adam McKay is still planning to make Step Brothers 2
Producer Malek Akkad has a Halloween 3 update
Rumor has it Frank Grillo will lead Skyline 2
Jason Reitman offers a suggestion for Ghostbusters 3
See the Lorde-curated soundtrack list for Mockingjay
Billy Boyd will sing the final Hobbit credit song
Check out the new banner for Horrible Bosses 2
College was the obvious next step for us. We had to go there. I don't know what the next step is after college. Do we go and take down Enron? Or the government in D.C.? I feel like it's all redundant. The big running joke of the second movie is this is just going to be bigger and (crappier) than the first time. I don't know if that joke works three times so we'll see.
For those of you who want glistening six-packs flying at your face in 3D, the bad news is Channing Tatum has no current plans to make Magic Mike XXL in 3D. But the good news is he hasn't ruled it out, either. "Hilarious, but I don't know," he said. "I wish. I wish that'd be the case. It's a great idea. I know someone has talked about it, but if it does . . . [the film would] have to be converted, I guess." [PopSugar]
Just in time for Halloween, producer Malek Akkad has an update on Halloween 3. "It's been a joy to work with so many creative people – ten films," he said. "We're working on eleven as we speak. We're working on a script right now. A new draft – perfect timing – is supposed to hit the day before Halloween. Hopefully my Halloween night reading will be a good read." [Shock Till You Drop]
Not only is Skyline 2 actually happening, it may even have a new star. A new report claims Frank Grillo is set to lead the sequel, called Beyond Skyline. Details are being kept scarce but word is it may be a reboot that takes overlaps chronologically with the last film. Liam O'Donnell is directing. [Latino Review]
Jason Reitman isn't actually involved with the Ghostbusters reboot. However, as a guy who grew up in the '80s, he still has some opinions on the new movie. And as the son of producer (and original Ghostbusters director) Ivan Reitman, who knows, he may even have the clout to make someone listen.
.@JFogliano91 @twitter They should ask @elonmusk to soup up Ecto-1

— Jason Reitman (@JasonReitman) October 17, 2014
[Twitter]
Adam McKay hasn't forgotten about Step Brothers 2. It's just that he doesn't want to make it yet. "We have a whole story, an outline, that we're happy with," he said.
We were ready to go, and you know the story of [how] we got the call on Anchorman 2. We're not gonna do it now 'cause we just did a sequel, I don't wanna get into the sequel business too much. It was kind of a novelty to do one of them and it was certainly very interesting and I had never done anything like it. So I want to go make some original movies—or you know, The Big Short is an adaptation but do some different stuff. But who knows? Two to three years, three to four years. I mean the funny thing with 'Step Brothers' is if those guys are in their 50's it still works, so we could easily return to that, but for now no sequels.
[Collider]
The Lorde-curated tracklist for The Hunger Games: Mockingjay – Part 1 has been revealed. It includes three Lorde tracks including one Kanye West remix, plus two other songs featuring appearances by Lorde. Non-Lorde artists involved include CVRCHES, Charli XCX, The Chemical Brothers, Miguel, HAIM, and Grace Jones. Get the full listing here. [Vulture]
The Hobbit trilogy is looking to a former Hobbit to help close out the final film, The Hobbit: The Battle of the Five Armies. Billy Boyd is confirmed to sing the closing credits song "The Last Goodbye," which he co-wrote with Philippa Boyens and Fran Walsh. For a taste of what it might sound like, re-watch that last Hobbit teaser — it features Boyd's performance of "The Edge of Night" from The Lord of the Rings: The Return of the King. [HitFix]
A new Horrible Bosses 2 poster reunites the central trio (Jason Bateman, Jason Sudeikis, and Charlie Day) with an old friend (Jamie Foxx), an old nemesis (Jennifer Aniston), and a pair of new enemies (Christoph Waltz, Chris Pine).