'The Conjuring' Sequel Pushed To 2016 [Updated]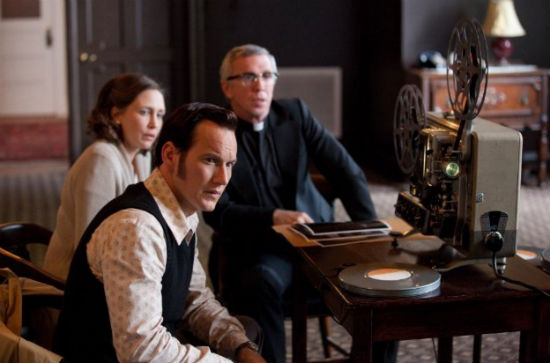 New Line had planned a Conjuring sequel for October 2015, but that plan has changed. Just weeks after the Conjuring spin-off Annabelle opened in the US, New Line has pulled The Conjuring 2 off the 3015 schedule, pushing it into 2016. The studio will still use that date for horror, and will release a different, as-yet untitled horror movie on the old Conjuring 2 date. Could this have anything to do with the good reception for Annabelle, which technically exists in the same series, but was a lot cheaper to make? 
THR reports that the Conjuring 2 date of Oct. 23, 2015 will now be used for "an untitled horror film" by New Line. As far as we know The Conjuring 2 is now without a release date, but that doesn't mean the movie is canceled. This isn't the best sign of life for the movie, but we'll see what happens.
Update: Other reports that followed THR, such as the one from Deadline, say the film has been pushed into 2016. There's no date for the movie yet, however, just a broad 2016 window.
The Conjuring cost $20m and has taken $318m worldwide; by comparison, Annabelle cost only $6.5m and has pulled in $166m worldwide since opening on October 5.
James Wan directed The Conjuring, which opened at the height of summer 2013. That film's stars Patrick Wilson and Vera Farmiga, who played real-world paranormal investigators Ed and Lorraine Warren, were set to return for The Conjuring 2. So the film isn't likely to be any cheaper than the original, even though Wan wasn't set to direct. (Carey Hayes and Chad Hayes were scripting; we don't know who would have directed.)
Pure speculation time: has New Line realized, via Annabelle, that it can still exploit tales from the Warren family history to create essentially its own Paranormal Activity franchise? Why do a proper Conjuring sequel when a series of Annabelle-like spinoffs will cost a lot less and probably make roughly the same amount of money in the long run? Again, that's speculation — New Line could decide to do both.
That October 23, 2015 release date is also the home for Jem and the Holograms, directed by Jon M. Chu.